It is not a secret that the GeForce RTX 30s are more efficient in ray tracing than the Radeon RX 6000, but so far the cards could only be compared in games with DirectX 12. New tests already performed in API Vulkan Ray Tracing show what the gap separates both manufacturers about ray tracing. The Nvidia GeForce RTX 3080 achieves up to twice the results of the AMD Radeon RX 6800 XT.
The first performance test of a game with the Vulkan Ray Tracing API continues to bring bad news for AMD, and it is that this technology is its Kryptonite even in a game like Quake II RTX, which was updated yesterday to make use of this free API that, in theory, benefits AMD more than DirectX Ray Tracing, basically because Vulkan was born from its own API Mantle.
At the moment of truth, it is the performance of the AMD RDNA2 architecture with Ray Tracing, which seems quite bad compared to that of a comparable Nvidia GPU, to the point that in a game of this type the Nvidia GeForce RTX 3080 surpasses the AMD Radeon RX 6800 XT comfortably.
At Full HD (1080p) resolution, while the RTX 3080 gives an output of 131.8 FPS, the Radeon RX 6800 XT stays at 68.6%. At a 2K/QHD resolution (1440p) we speak of 78.4 vs 40.5 FPS, while at 4K we speak of 36.4 vs 18.5 FPS. This shows the poor performance of the GPU in this technology.
Although AMD admitted in the past that their drivers had problems with DirectX Ray Tracing, the result is the same using the Vulkan Ray Tracing API (and that AMD is within the Khronos Group consortium like Nvidia), which works the same independently of the GPU used.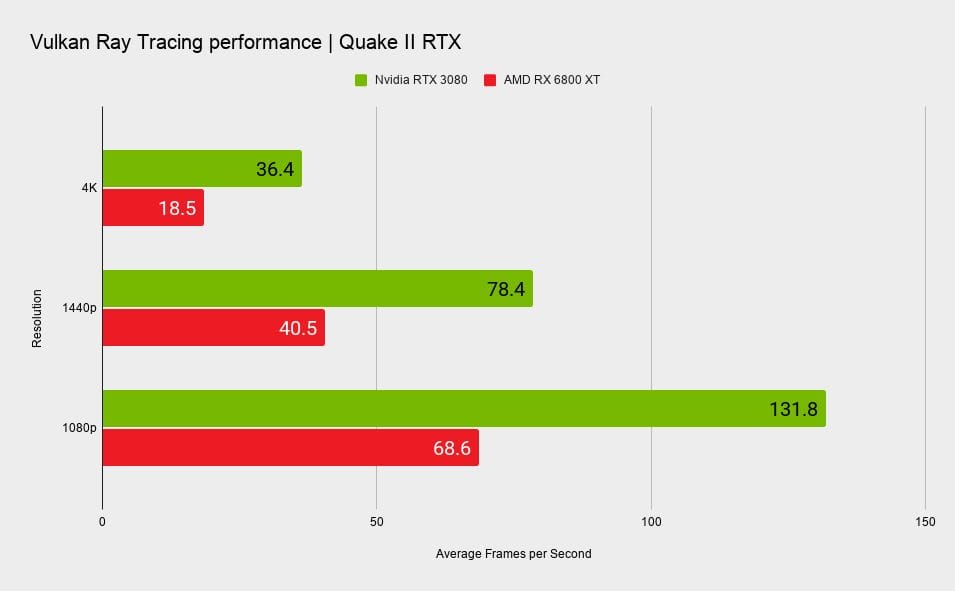 Luckily for AMD, Ray Tracing is not a highly demanded or vitally important technology for gamers, but when combined with DLSS, things change a lot, as the visual quality is superior and the performance impact is not so aggressive.
AMD had already promised to discuss its DLSS counterpart before the launch of its Radeon RX 6000 Series, which took place almost a month ago, but we still don't know anything about this technology.