Kioxia has presented the first performance benchmarks of next-generation solid-state drives with double the bandwidth of current versions. The switch from PCIe Gen 4.0 to PCIe Gen 5.0 provides the boost.
The PCIe Gen 5.0 SSD prototype has sequential read and write rates of up to 14,000 MB/s and 7,000 MB/s, respectively. This is a 103 percent and 67% increase over the Kioxia SSD with PCIe Gen 4.0 interface, respectively. Random access speed is nearly double that of sequential access, and performance is 50 percent quicker when evaluated in terms of the number of I/O operations per unit of time. Finally, the reading latency has been decreased by 77%, while the write latency has been reduced by 50%.
Before consumers get their hands on these delicious 14GB/sec capable PCIe 5.0 SSDs, KIOXIA will focus on the data center 8-channel controller and business 16-channel sectors.
KIOXIA will sell its new PCIe 5.0 SSDs in sizes ranging from 1.6TB to 30TB, with benchmark slides indicating that PCIe 4.0 SSDs are capable of 7GB/sec and PCIe 5.0 SSDs are capable of 15GB/sec.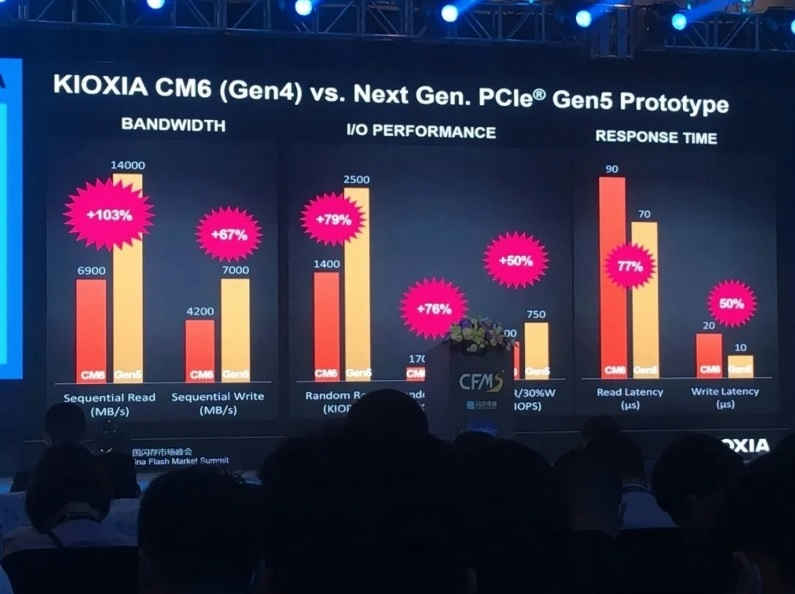 Depending on the test and whether it's read or writes, we've seen a massive jump in performance of 50 percent to 103 percent across the board. PCIe 5.0, on the other hand, is offering massive performance gains. So much so that most customers don't require 15,000MB/sec read speeds, but they'll want it nonetheless.
In Q4 2021, Kioxia aims to ship its first PCI Gen 5.0 SSDs. These will be CD7 series server units having a PCIe Gen 5.0 x4 interface and built to the EDSFF E3.S standard size. Their capacity will be between 1.6 and 30 TB, with a resource of 1-3 DWPD. SSDs with a new interface will be available in the consumer market later, around 2022.