Now.GG is an online game portal that allows you to play Minecraft on your PC browser and mobile for free. However, this game has some limitations that make it not suitable for everyone. For instance, it does not support the Creative mode. The player will have to wait for some time before he can access the main menu and play the game. This is not a problem because Now.GG has a number of different servers in which you can play Minecraft.
How to Play Minecraft on Now.GG PC & Mobile?
To play Minecraft on your PC browser and mobile device, you can simply go to Now.GG Minecraft page on your PC browser or mobile device. Now, simply click on the pink "Play in browser", button. Now, it will begin loading the game in a new window, wait for a while and then you will get a pink Launch game button at the bottom of the screen. Now, click Launch game and click OK for the warning screen.
After this, you will be asked to log in to your Microsoft account, simply put your Minecraft email and password to log in to the game.
However, if you haven't already purchased the game then it will ask you to buy the game first. If you have already bought the game then you are good to go.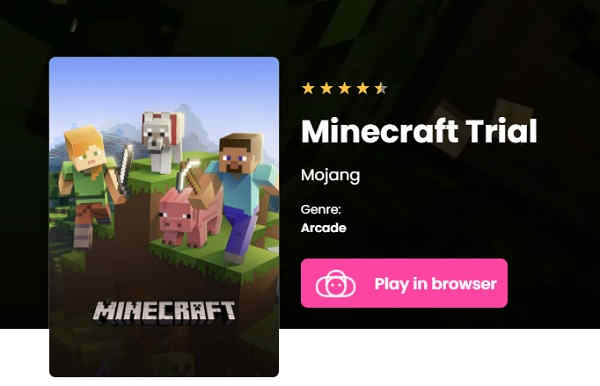 After logging in, simply select the Minecraft server you want to play on creating a new world, that's it. To play the game on PC or mobile, you will need an internet connection.
Minecraft was first publicly released in May 2009 and was officially launched in the year 2011. Since its release, the game has become an enormous community of gamers, with more than two hundred million players. It allows players to build their own worlds, build structures, and battle computer mobs. There are even members on exclusive servers, like the popular Dream SMP members, who stream their gameplay so that fans can watch the games unfold on Twitch or Youtube.
There are also many ways to customize the game and create custom experiences. The options are limitless. If you're an experienced player, you can use this resource to create your own world.