The PowerCore 26800 PD is an external powerbank offered by the Anker brand. On the market for almost 2 years, it has already been tested and approved by most of its owners, with an average rating of 4.5/5 for more than 1,500 reviews. Not surprisingly, it was very versatile and remarkably reliable during our tests this week.
Anker is a brand recognized worldwide for its activity in the world of external batteries. Renowned for bringing innovative, reliable and long-lasting equipment, it was therefore interesting for us to test this new model from the PowerCore range. Tested for a few weeks, the PowerCore+ 26800 PD has impressed us in terms of performance and design!
Below are the items that were included in the box:
PowerCore+ 26800 PD
60W USB-C wall charger
USB-C to USB-C cable
Travel pouch
Welcome guide
Design
As you can see, the design of this powerbank is simple but of quality. The PowerCore+ 26800 weighs 580g, which is still substantial but necessary to contain the 26800mAh that it can deliver to fully recharge. On the right of the battery, there is a round button. This is the blue battery charge level indicator. In addition, the green light that you can see indicates that it is in fast charging mode x2. To activate this mode, simply press the button twice. During our tests, this mode convinced us of a much higher charging speed than the standard mode, even more than doubled.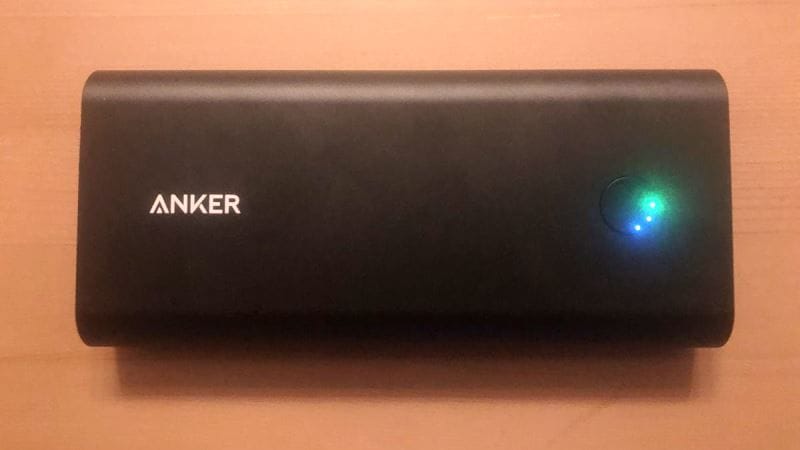 When we opened the box, we found the external battery carefully packaged as usual by Anker, as well as the USB-C 30W charging socket, with brief instructions. There is also a small cover that protects the powerbank when it is transported. Anker provides a USB-C cable to charge the battery and which can also be used to charge other devices such as a MacBook USB-C. The length of the supplied cable is quite short, it is 30 centimeters. As in other brand products.
The dimensions
Having a capacity of 26,800 mAh, this PowerCore + PD is not that big. Although a little big for your pocket in everyday life, it is especially suitable for your travels (travel, hiking, etc). Regarding the dimensions, you can compare it above to a PS4 controller, which is 18 cm long by 8 cm wide, all with a thickness of 2.4 cm.
Connectivity
Regarding the external battery connection, there are two USB-A ports to charge your devices as well as USB-C to recharge the Anker powerbank. It should be noted that this USB-C port goes in both directions, it allows to charge the battery but also to charge devices connected to it. Very convenient.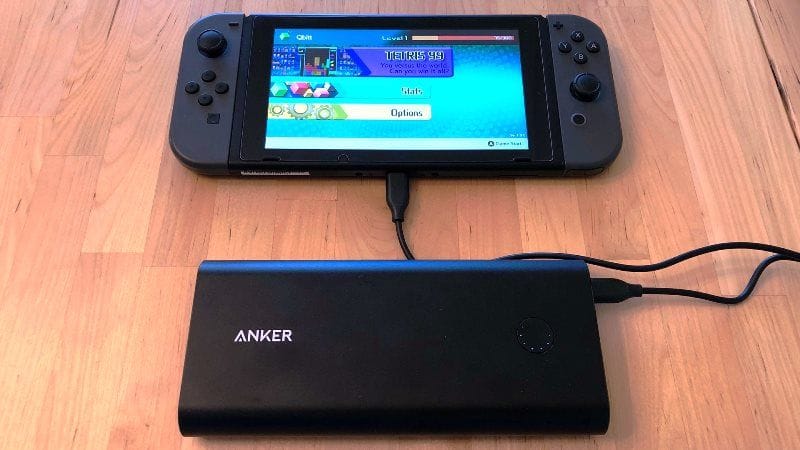 CAUTION: Anker notifies you that you cannot charge any device at the same time as you recharge the battery. We managed to connect a whole bunch of devices for our tests and made lots of combinations without any problems or unforeseen events.
Conclusion and advice
This PowerCore+ 26800 PD accessory has advanced technology to offer an optimized charge for each of your devices. The recharge will not be the same for an iPhone 11 and an iPhone 6S or a Nintendo Switch, the external battery has adaptability. This is precisely what makes it superior to its competitors. The battery also has a trickle charger, a charging mode reserved for low power devices like the AirPods for example. Another strong point is the MultiProtect security system which will sympathetically manage the charging of your devices. We are talking about protection against high voltages and temperatures.
Anker's powerbank, therefore, proved to be very convincing with first-rate performance, be it speed, capacity or safety. Enough to leave serenely when traveling or even at work, without fear of running out of juice on your iPhone or another device such as an Android, an iPad or even a Macbook. You will find this new PowerCore+ 26800 PD at a price of 139.99 from Amazon, a product with very good value for money!
Rating 4.5/5