If you've played The Sims 4 before, you probably already know how to download custom content for the game. However, you might not be aware of how to download the custom content. It is not difficult to do. All you have to do is follow a few simple steps.
How to Download Custom Content For Sims 4
Before downloading any Custom Content, you should first check if it's available for your version of the game. This will help you get started with the game and prevent you from running out of options before you know it.
To download the custom content for Sims 4, we will here take the example of the popular third-party site thesimsresource.com. Simply go to the site and look for the custom content you want to download or use in the game. On the site, you can find and download the following types of custom content for Sims 4 and more.
Featured Creations
Accessories
Clothing
Eye Colors
Facial Hair
Floors
Hairstyles
Lots
Makeup
Maxis Match
Mods
and more
How to Use Custom Contents Downloaded from the Site?
In order to use or activate custom content in the game, you will first need to manually enable any downloaded custom content and mods through the in-game menu. To do this, go to 'Game Options', then 'Other'. From there, you can select 'Enable custom content and mods' and 'Script mods Allowed' to turn on your custom content.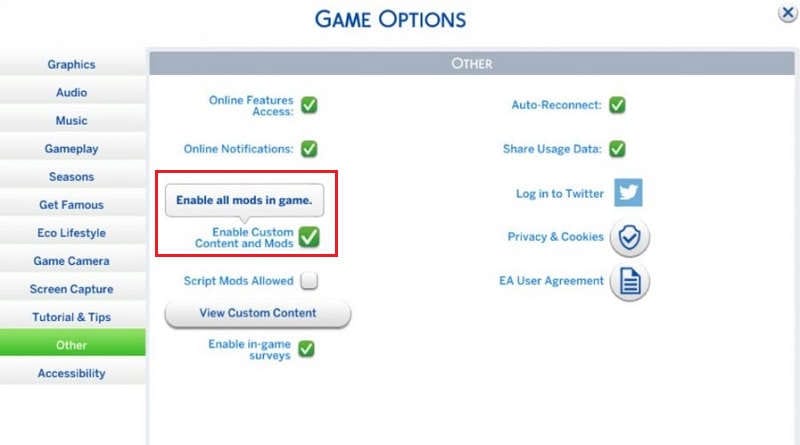 Once you've downloaded the content, you'll want to install it on your computer. The most common way to install this type of content is by unzipping it and placing it in the Mods folder.
Make sure you use the same extension as the mods you've installed. If you have a hard drive, you'll also want to label the folder so that you can easily find the files you need.
You can also use the Sims Resource to download the custom content for your game. Just click the "Download" button when you've located it on a trusted site.
After you've downloaded the content, you can go to the "EA" folder and find the Sims 4 folder. In the Sims 4 folder, you'll find the Mods folder. Place the downloaded Custom Content in that folder.