The AMD Radeon RX 6900 XT graphics card is slowly getting ready for the market as an absolute hi-end of the new generation Navi 2x. But it was clear in advance that it would not be anything advantageous in terms of performance and price.
However, the AMD Radeon RX 6900 XT will be compared mainly to the GeForce RTX 3090, which also does not offer any amazing performance-price ratio. The new GeForce RTX 3060 Ti, which, on the contrary, is the best so far, at least in terms of comparing performance with recommended prices. Compared to the RTX 3090, however, perhaps only the RTX 2080 Ti is worse, and that's what we have to say given how the performance of the new generation Ampere has shifted overall.
The new Radeon RX 6900 XT will come with a suggested retail price of $999, and apart from performance with ray tracing, it should not be anything like the RTX 3090, after all, in some cases, the overclocked RX 6800 XT models are enough. So in this case, AMD could offer significantly better value than the RTX 3090 with its price of 1499 USD.
This is a huge drawback, but NVIDIA, on the other hand, offers a significantly better 24GB GDDR6X memory subsystem, which is less than twice the throughput of 16 GB GDDR6 on the RX 6900 XT (512 GB/s vs. 936 GB/s). AMD is trying to partially address this issue with Infinity Cache.
What performance can we expect from the Radeon RX 6900 XT? The specifications already make it clear that, unlike the RX 6800 XT, it will definitely not be enough to justify a price increase of more than half, but in the case of an absolute hi-end, this is a completely normal thing. The test results in OpenCL in Geekbench 5.2.3 shows that it can be about 13% faster compared to the RX 6800 XT and 35% compared to the RX 6800.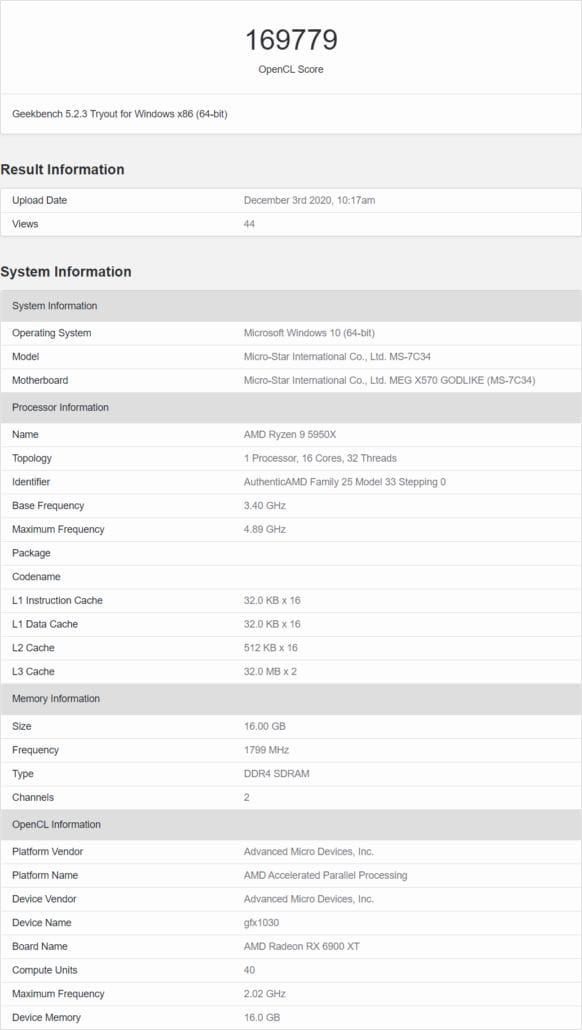 Compared to the Team Green graphics cards, the GeForce RTX 3080 and RTX 3090 demonstrate 4% and 19% better results. However, Nvidia products have always performed well in the OpenCL benchmark.
AMD Radeon RX 6900 XT
Compute Units 40
Maximum Frequency 2.02 GHz
Device Memory 16.0 GB
gfx1030

Geekbench 5
OpenCL Score – 169779https://t.co/7X4nV31kXw

— APISAK (@TUM_APISAK) December 3, 2020
The AMD Radeon RX 6900 XT will hit the market on December 8 at a price of $999. In Europe, it will be at least 999 EUR and rather a little more.