On the day of the official launch of the AMD Ryzen 5000 CPUs, the AMD Ryzen 9 5950X has immediately set the first World Records in overclocking thanks to the professional overclockers.
AMD's Ryzen 5000 series processors are finally here, and different reviews of Ryzen 5900X and 5800X confirms that with the arrival of the Zen 3 architecture, Lisa Su's company has managed to further elevate performance. However, some enthusiasts have pushed the entire CPU series to the limit, breaking record after record.
According to reports, the overclockers have tested all the desktop CPUs released by AMD recently, testing them using liquid nitrogen cooling systems (LN2) to reach several important results in the main benchmarks such as Cinebench, Geekbench, WPrime, GPUPI, and X265.
The first result that struck the community was achieved by the Taiwanese TSAIK, who achieved the world record frequency with AMD Ryzen 9 5950X pushing it to 6.35 GHz, one of the company's flagship models and one of the most powerful in the 5000 series; the motherboard used was the MSI MEG X570 GODLIKE.
Der8auer has also achieved significant figures, which you can also see in the video attached below, pushing the same processor at 5.85 GHz and reaching 14,275 points in the Cinebench R20 benchmarks.
But the records achieved by the series are many more: AMD Ryzen 9 5950X with 16 cores/32 threads has set 8 world records; AMD Ryzen 9 5900X with 12 cores/24 threads got 11, all thanks to the work of the US benchmarker KEEPH8N; The 8-core/16-thread AMD Ryzen 7 5800X outperformed 6, while the 6-core/12-thread AMD Ryzen 5 5600X scored as many.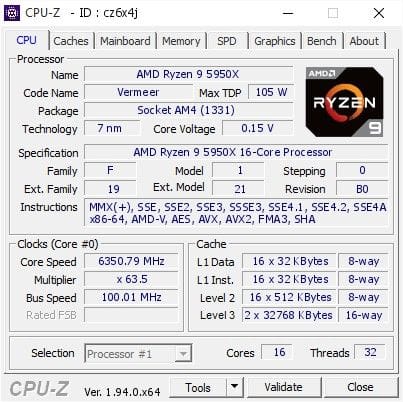 In short, the performances of this series are very interesting. If you want to try them for yourself, perhaps with some other brand new components, remember that not only MSI presented the new B550 Unify motherboards for Ryzen 5000 CPUs, but ASUS also unveiled the latest ROG models such as the ASUS ROG Crosshair VIII DARK HERO.