The AMD Ryzen 5000 Zen 3 CPUs are now official. After introducing the Ryzen Mobile 4000 earlier this year and launching the Ryzen 4000 for desktops (OEMs only), AMD just introduced the 7nm Ryzen 5000 processors. These not only arrive with more power than their predecessors, but they are also responsible for releasing the new Zen 3 architecture.
All the four AMD Ryzen 5000 Zen 3 processors announced today will be released on November 5, 2020. In addition, AMD has already dropped that the future Zen 4 CPUs will be manufactured in 5nm, without giving any further details.
AMD Ryzen 9 5950X Specs
The most powerful model is the Ryzen 9 5950X, a processor with nothing more and nothing less than 16 cores and 32 threads. It is a chipset very focused on gamers and content creators whose maximum frequency rises to 4.9 GHz, as rumored before. It has a 72 MB L2+L3 cache and a 105W TDP.
AMD also made some comparisons between the AMD Ryzen 9 5950X and Ryzen 9 3950X with some games, such as Far Cry New Dawn and Shadow of the Tomb Raider, and they assure that it is capable of achieving a 29% improvement in the performance. It is a processor designed to play games, but also to render and do editing tasks, something that follows the philosophy of having a single computer to play and create.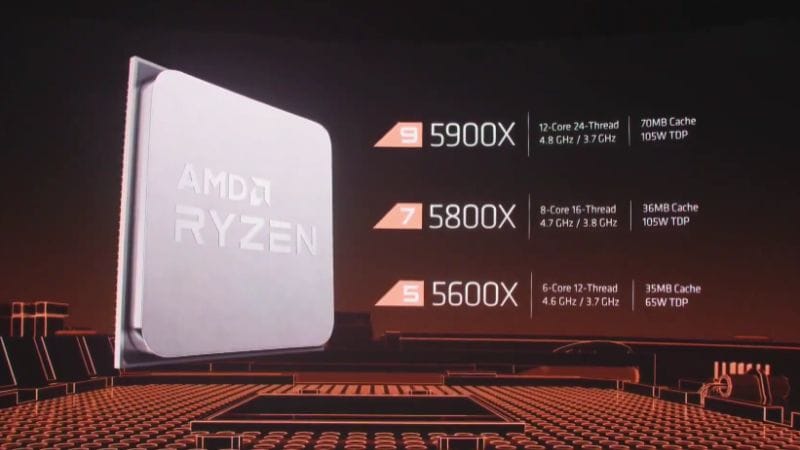 AMD Ryzen 9 5900X Specs
The next Zen 3 model CPU is AMD Ryzen 9 5900X, it is a processor with 12 cores and 24 threads. Its clock speed is 3.7 GHz, although it rises to 4.8 GHz in boost mode. It has an L2 and L3 cache of 70 MB and its TDP amounts to 105W.
According to AMD, Ryzen 9 5900X is capable of achieving better performance in a large part of the games. Especially, AMD states that its performance improves with an average of 26% playing in Full HD. In fact, AMD has reiterated that this is the first processor to exceed 600 points in Cinebench, reaching 631 points. Obviously, the Ryzen 9 5950X will surpass it gradually, but AMD has not revealed the figure yet.
AMD Ryzen 7 5800X and Ryzen 5 5600X Specs
Coming to the rest of the models, you will find a Ryzen 7 5800X with 8 cores and 16 threads Zen 3 CPU at a maximum speed of 4.7 GHz, 36 MB cache and 105W TDP. The most modest model, the Ryzen 5 5600X, consists of 6 cores with a maximum frequency of 4.6 GHz, 35 MB of cache and 65W TDP.
AMD Ryzen 5000 Zen 3 Processors Price and Release Date
AMD has also revealed the release date of its new Zen 3 processors, as well as their prices. All the four models of the AMD Ryzen 5000 Zen 3 CPUs will be available for purchase from November 5 worldwide and their prices are as follows.
AMD Ryzen 9 5950X is priced at $799 US.
AMD Ryzen 9 5900X is priced at $549 US.
AMD Ryzen 7 5800X is priced at $449 US.
AMD Ryzen 5 5600X is priced at $299 US.
We still do not know the price of the Zen 3 CPUs in EUR, but we will update it as soon as it is official. Check the complete presentation of the new Zen 3 processors in the video below.