As it is already known, the AMD Ryzen 5000 processors will soon be revealed on October 8. The wait for the processors grows and, after the information provided by the AoTS benchmark, the first benchmarks on Cinebench confirm the performance increase compared not only to the current Ryzen 3000, but also to the Intel Core 10th gen counterpart.
Performance aside, the new benchmarks of the AMD Ryzen 5000 CPUs appeared on the CPU-Monkey database and it primarily confirms the model of the new Ryzen 5000 "Vermeer" range, also giving an indication of what will be the maximum Boost frequencies of the chips.
Let's start by saying that, according to CPU-Monkey, there will not be a Ryzen 5000 that will reach 5 GHz, as hypothesized in recent days for the Ryzen 9 5900X: the fastest single-core model will be the Ryzen 9 5950X that tops at 4.9 GHz. But let's see in detail the characteristics of the processors that emerged from the database:
1. AMD Ryzen 9 5950X: 16c/32t – 3.7 GHz base frequency – Boost 4.9 GHz
2. AMD Ryzen 9 5900X: 12c/24 – 3.8 GHz base frequency – Boost 4.8 GHz
3. AMD Ryzen 7 5800X: 8c/16t – 4 GHz base frequency – Boost 4.8 GHz
4. AMD Ryzen 5 5600X: 6c/12t – 4 GHz base frequency – Boost 4.6 GHz
As for performance, however, in the Cinebench R20, we notice a clear gap between the new Ryzen 5000 and the current mainstream processors currently on the market.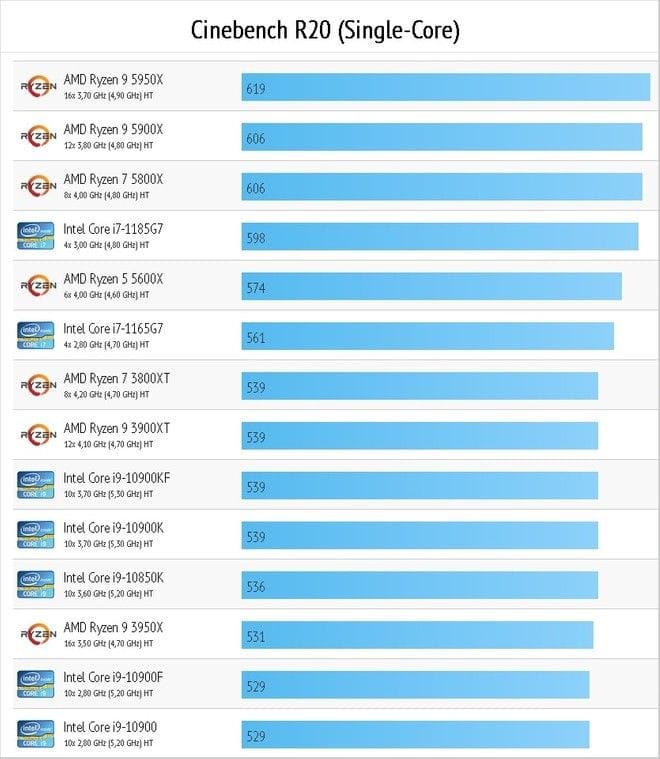 The single-core performances are certainly the most interesting; the top of the range Ryzen 9 5950X (4.9 GHz) scores 619 points against the 539 of an Intel Core i9-10900K/KF (5.3 GHz), or 15% more. However, they compensate for the new Tiger Lake (Core 11th gen) which, with the Core i7-1185G7 (4.8 GHz), are placed at 598 points.
Apart from this Intel model, the new Ryzen 5000 occupy the first positions of the single-core ranking, including the Ryzen 5 5600X which however has a much lower Boost frequency (4.6 GHz).
In Multi-Core the situation is basically the same; certainly the number of cores influences the score the most, however, in general, we can say that the new octa-core AMD Ryzen 7 5800X is almost on par with a 10-core Core i9, without considering the Ryzen 9 5950X and 5900X, practically.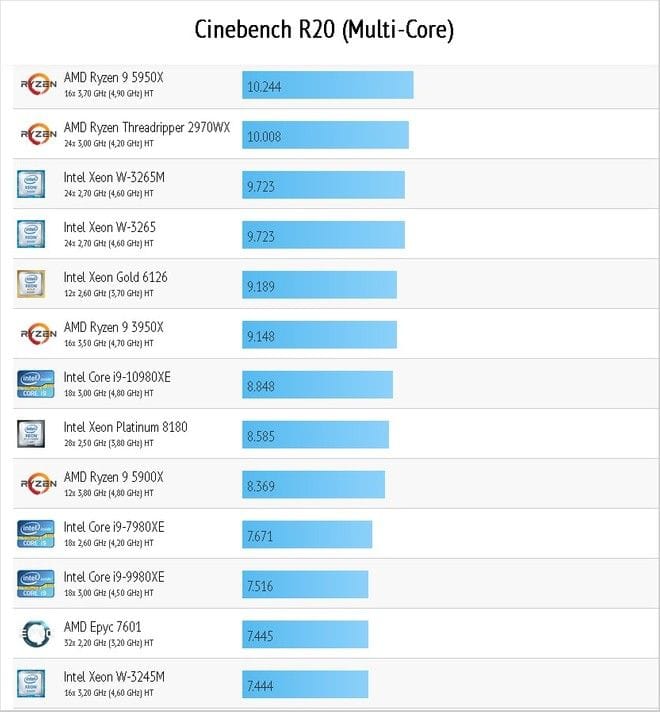 In short, AMD seems to have kept its promises and Zen3 is preparing to be a new standard. For its part, Intel seems to have a good starting point with Tiger-Lake processors, however; remember that the models in the ranking are far from the frequencies that we will see on desktop products, so we must also expect something good from the Santa Clara company.