At WWDC22, Apple announced new M2 SoC powering all new redesigned MacBook Air and an updated 13-inch MacBook Pro. The new M2 SoC's 8-core CPU and 10-core GPU support up to six-K resolution, and the company says that it will support 6K external displays. It will also support two displays and a third external display with up to 6K resolution. Apple hasn't revealed any other details about the M2, but it does seem like a huge upgrade over the M1's six-core CPU.
The M2 has 20 billion transistors, a whopping four billion more than the original M1 and five more than the A15 SoC. It will be made using a "second-generation" 5nm process, or N5P, which offers performance enhancements, but not density increases.
Also Read: Apple M1 Vs Apple M2
This makes it a more affordable option for most users. Apple's new lineup of processors will be geared more towards consumers than professionals.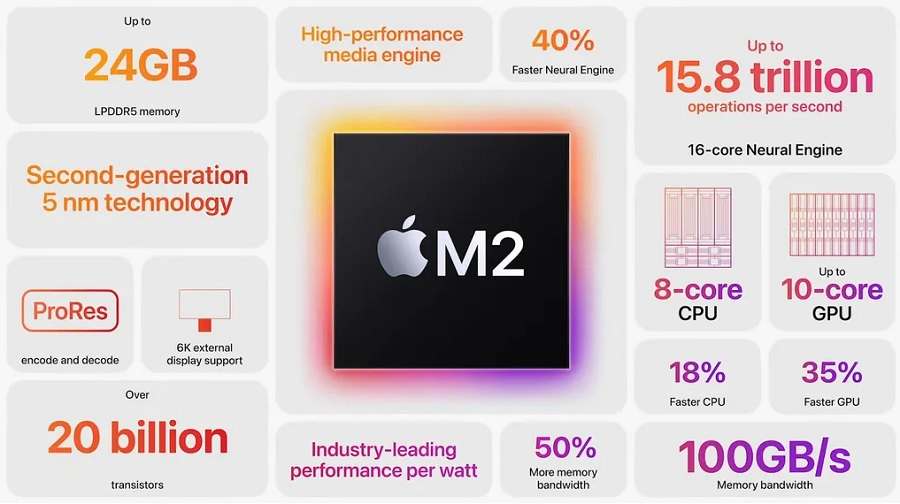 Expect it to appear in the new MacBook Air 2022, and the updated 13-inch MacBook Pro model. Despite the lack of concrete details, Apple's new M2 chips will power the new 13-inch MacBook Pro. This update will add an 8-core CPU and a 10-core GPU to the popular model.
"We're so excited to bring our new M2 chip to the world's two most popular laptops — the MacBook Air and 13-inch MacBook Pro," said Greg Joswiak, Apple's senior vice president of Worldwide Marketing. "Completely redesigned around M2, MacBook Air is thinner, lighter, and faster with a bigger display, better camera, and all-day battery life, in four beautiful finishes. Only with Apple silicon can you build such a thin and light notebook with a fanless design, and this combination of performance and capabilities. M2 also comes to the 13-inch MacBook Pro, featuring incredible performance, ProRes acceleration, up to 24GB of memory, and up to 20 hours of battery life — making our most portable pro notebook even better."
It's also bringing a more affordable price tag, starting at $1,299 and shipping in July. While we'll know the exact release date soon enough, we'll have to wait to find out if pre-orders will be available.