Intel yesterday provided with a surprise press release the first official details on the Cypress Cove CPU architecture, the basis of the next 11th Generation Rocket Lake-S desktop processors expected on the market in the first quarter of 2021.
A decidedly unexpected move that of the Santa Clara company, just when all attention was focused on the new AMD Radeon RX 6000 and which, in fact, anticipated the highlights of the new Rocket Lake-S desktop platform (including CPU and chipset), this despite the launch date is still very far away.
But that's not all, new benchmarks of Rocket Lake-S processors also arrive from the network, in particular of an unprecedented pre-production model that seems to offer a net increase in IPC compared to the current Comet Lake-S generation.
In the document made available by Intel, we find all the key points of the new platform, without however particular insights which, probably, will arrive close to the official presentation. As already discussed in recent weeks, Intel seems to have managed to significantly increase the IPC of the new CPUs thanks to the Cypress Cove architecture which will offer a clear improvement over the current solutions (we are talking about a percentage of double-digit).
Here are the highlights of the new Intel Core 11th gen Rocket Lake-S platform
New Cypress Cove architecture
Double-digit CPI increase
Up to 20 PCI-E 4.0 lanes for the CPU
Integrated Intel Xe Graphics
Intel Quick Sync Video further optimized
New features for overclocking
New Intel Deep Learning Boost and VNNI support
Among the various information, we note that Cypress Cove will offer, at least at the moment, processors configured up to 8 cores/16 threads, with native support for DDR4 3200 MHz memory support and other improvements concerning, in addition to the introduction of the PCI-E 4.0 interface, above all integrated Xe graphics, high-resolution display management and latest generation codecs. Also confirmed is the Intel 500 series chipsets that will be coupled to motherboards always with LGA 1200 socket and will therefore be backwards compatible (hopefully).
Intel's 11th Gen Rocket Lake CPU With 4.2 GHz Max Clocks
As for performance, tests of a new 8 core and 16 thread Intel Core processor appeared on the UserBenchmark database. The software does not recognize the name of the chip which is likely an engineering sample, a feature confirmed among other things by the unprecedented MSI Z590-A PRO-12VO motherboard. That said, the CPU has a base frequency of 3.4 GHz and a boost frequency at just 4.2 GHz with a single-core performance that we can undoubtedly call interesting.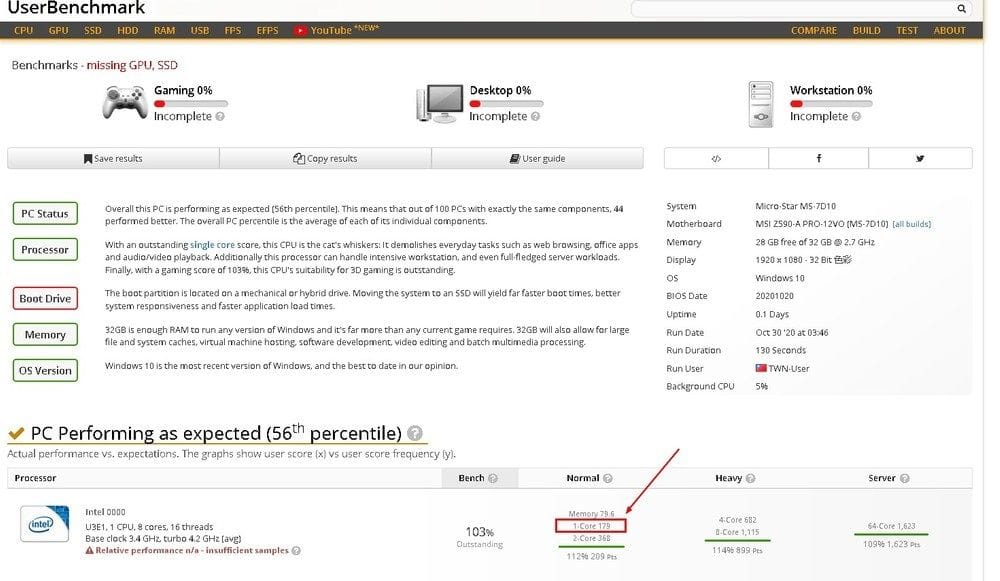 With a score of 179 points, this processor is around 21% faster than a Core i7-10700K and 18% faster than the flagship Core i9-10900K, credited with 148 and 152 points respectively. A noteworthy result for Intel which, at the same time, seems to have anticipated these details to reassure customers and beyond, back from a third-quarter that is anything but rosy with important impacts on the stock exchange.
In summary, Intel Core 11th gen Rocket Lake-S processors will arrive in the winter with the much-promised IPC boost, meanwhile, AMD, with the Ryzen 5000 announced earlier this month, will have plenty of time to gain market share with a proposal that is currently the best on paper.