Even if on this Thursday, September 24, the official sales of GeForce RTX 3090 video cards will start, the pricing of the custom Ampere video cards have been leaked by the online store NewEgg.
The recommended price of the new graphics card is $1499 for the US market, but Nvidia's AIB partners will also offer more expensive custom GPUs equipped with powerful cooling systems. About how much you have to pay for the custom GeForce RTX 3090 with an advanced cooler, the American online store Newegg has told us now.
One of the most affordable alternative GeForce RTX 3090 graphics cards will be the ASUS TUF Gaming model. In overseas retail, it will be available for the same price as the Founders Edition.
Meanwhile, the factory-overclocked ASUS ROG Strix GeForce RTX 3090 OC will cost at least $1,800. Please note that the list does not include overclocking models, for example, EVGA GeForce RTX 3090 K|NGP|N, which will turn out to be even more expensive.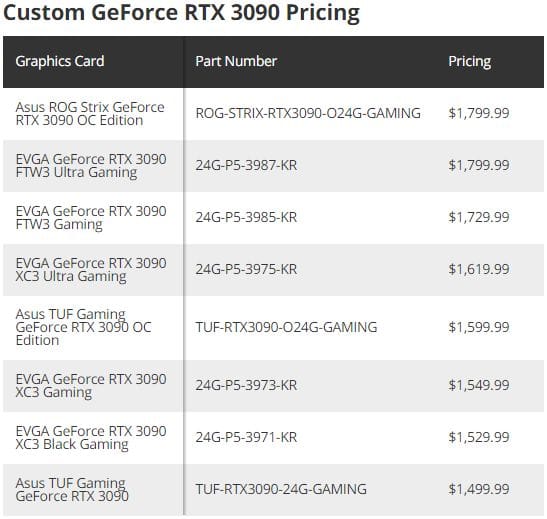 The GeForce RTX 3090 is based on an 8nm Nvidia GA102 graphics core in a configuration with 10496 CUDA cores and a 384-bit memory bus through which the GPU communicates with 24GB of GDDR6X.
Nominal GPU frequencies range from 1396 to 1695 MHz in dynamic overclocking. The video memory operates at an effective frequency of 19.5 GHz, which results in a bandwidth of 936 GB/s.
Reviews of the new RTX 3090 graphics cards will be published in the coming days. However, in recent news, a leak revealed the gaming performance of the NVIDIA GeForce RTX 3090 which is only said to be 10% faster than the RTX 3080 graphics card.