A week before the official launch of the NVIDIA RTX graphics cards with Ampere GPU, the first images of what will most likely be the new video card of the lineup arrive from the web, let's talk about the much talked about Nvidia GeForce RTX 3090.
From the Twitter account GarnetSunset two images of the current GeForce RTX 2080 emerged compared to an unprecedented NVIDIA card which, looking at the photos leaked in the past, leave little room for doubt. Most likely we are getting the new Nvidia GeForce RTX 3090 (we do not however exclude the RTX 3080), a decidedly imposing graphics card which, according to what we see, will occupy three PCI slots, resulting also huge in size as regards to the length of the PCB.
The images also confirm the heatsink design with the fan on both sides of the PCB, a solution that initially seemed linked to the use of a dedicated coprocessor for ray-tracing.
3 slots. 2000$. pic.twitter.com/ZgKsPUQ1U4

— James (@GarnetSunset) August 21, 2020
In the last few hours, further details have emerged regarding the PCIe auxiliary power connector. Power supply manufacturer Seasonic has leaked images of a new PCIe 12pin cable/connector dedicated to the new GeForce RTX.
As can be seen from the photos, Seasonic's PCIe 12pin (modular) cable connects to two PCIe 8pin connectors on the power supply; considering that a single PCIe 8pin can deliver 150W, and making the necessary calculations, the maximum output available for this connector will be 300W, 375W if we also consider the 75W that supplies the PCIe slot of the motherboard. Note also that an 850W power supply is recommended.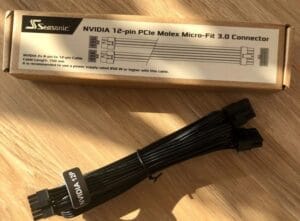 NVIDIA has not commented at the moment, while Seasonic speaks of a connector under test. One thing seems certain, the use of this connector suggests a very demanding graphics card in terms of energy; it is very likely that this type of connector will be used on the flagship model of the line (probably RTX 3090), while we do not dare to think what NVIDIA partners will come up with the custom models.