If there is little supply and high demand, the price of the product goes up. However, AMD has stealthily moved against stores that sell their Radeon RX 6000 GPUs and Ryzen 5000 CPUs at high prices.
Although we can find Ryzen 5000 CPUs in the market, the RX 6000 Series graphics cards are non-existent and the scarcity problem has hit them heavily. We have already explained the causes of this problem many times, but the point is that many online stores sell the products at a higher price. AMD wants to eradicate this effect in its own way, which is why it has sanctioned these companies in a "peculiar" way.
Yes, after detecting that many official distributors have been raising the prices of AMD products, it has removed the external links to these stores. For Lisa Su's team, the priority is taking care of the AMD customer, and in her opinion, many stores are not on the same page.
All large companies that sell a product to the retailer have a section on their website in which they guide the buyer to an official distributor in their country to get the product. From what we have seen, these would be stores that would have offered the product at a higher price, such as those that do not stock the AMD Ryzen 5000 CPUs or Radeon RX 6000 GPUs. You can find out by visiting its official website.
Therefore, AMD will monitor the stock status of each store, making sure that they do not lead the consumer to a store that sells its products at very high prices, or that, directly, or has stock. Being consumers like you we ask ourselves, is this enough?
Obviously, they save you the time of looking for the product in a store that has no stock or that sells it for almost double. On the other hand, the consumer still has the need to buy a CPU or a GPU, so they remain as they were: dissatisfied.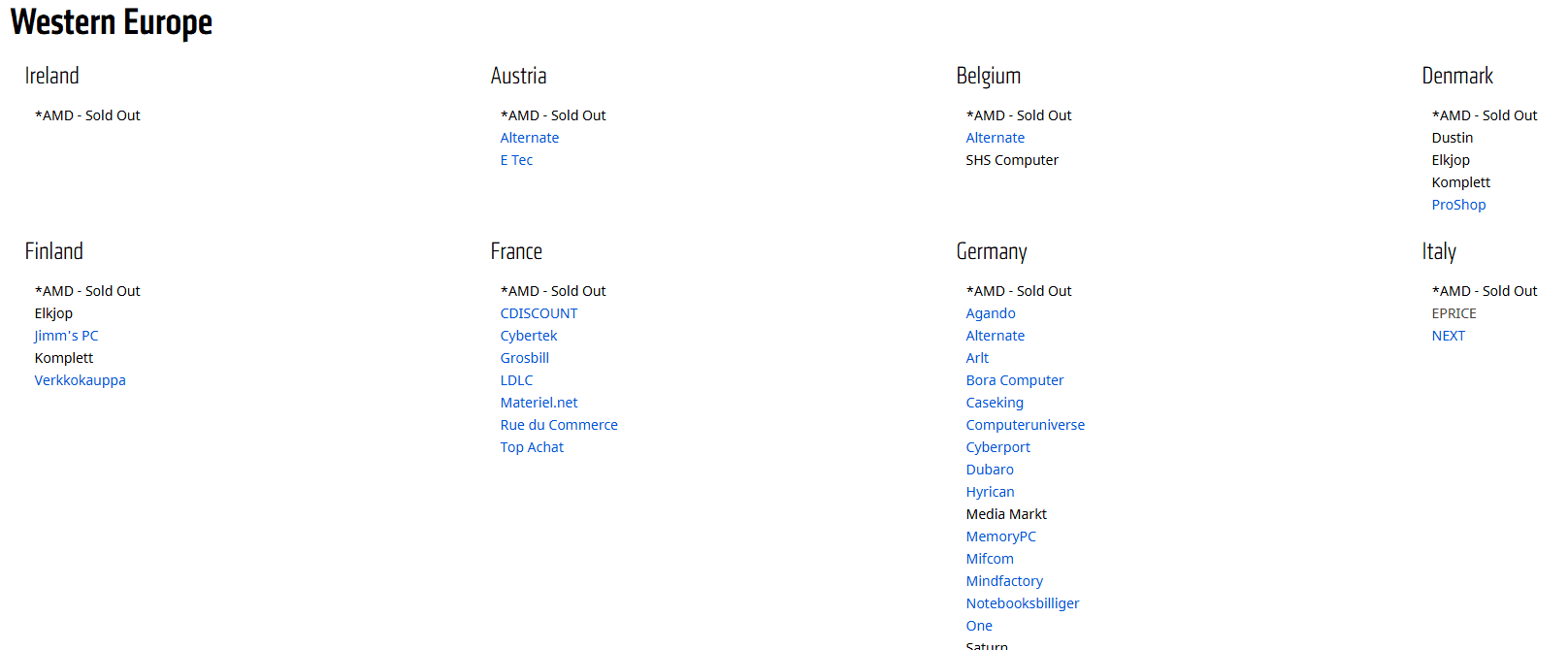 We look favorably on this move by AMD. It is a good measure, but, in the end, what the consumer wants is to be able to buy his/her RX 6000 Series graphics cards or Ryzen 5000 Series processors.
In recent news, the Senior Director of AMD Radeon Technologies Group, Riche Corpus, confirmed that AMD RX 6900 XT/6800 XT video cards will be available in the first quarter of 2021. On the other hand, AMD Radeon RX 6700 XT GPU with 12 GB VRAM and 1440p gaming is confirmed to launch in Q1 2021.
What do you think of this measure?