The MP600 PRO XT is a new Gen4 PCIe x4 NVMe M.2 SSD from Corsair. The MP600 PRO XT stores a lot of data in a small package that fits into almost any PC configuration.
A new NVMe M.2 SSD has been released that supports PCI-Express4.0 (x4) connection. There are three versions in the capacity range, each with a different capacity: 1TB, 2TB, and 4TB. 3D TLC NAND provides random reading and writing capabilities of up to 100,000 IOPS, as well as PCI-Express 4.0 compatibility for high-speed versions, in addition to sequential reading and writing rates of up to 7,100MB/sec and 6,800MB/sec, respectively. SSDs of the highest grade (X4) When random access is used, it is extremely fast.
Furthermore, the product is equipped with a large heat sink, which aids in further optimizing cooling performance. It's also compatible with the "Hydro X Series XM2 Water Block," allowing it to be utilized in a water cooling system.
The main body is 23 mm wide, 80 mm deep, and 19 mm tall, and it weighs 66 g. The main body has a width of 23 mm, a depth of 80 mm, and a height of 19 mm. When it comes to write endurance, the 1TB drive has 700TBW, the 2TB drive has 1,400GB, and the 4TB drive has 3,200GB. The device comes with a 5-year warranty and a 1.6 million-hour MTBF.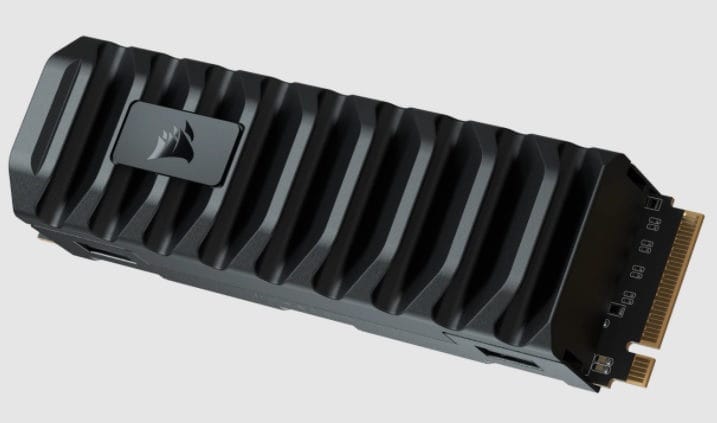 With a pre-installed heatspreader, the MP600 PRO XT provides exceptional sustained performance, leaving conventional M.2 SSDs in the dust. With up to 7,100MB/sec sequential read and 6,800MB/sec sequential write speeds*, as well as more than one million input/output operations per second, the MP600 PRO XT breaks the 7,000MB/sec barrier (IOPS). The MP600 PRO XT is made of high-density 3D TLC NAND, which provides excellent performance and endurance of up to 3,000TB Written.
Backward compatibility with PCIe Gen3 gives you the flexibility to bring fast storage to a variety of systems. Cutting-edge PCIe Gen4 technology ensures that your drive achieves maximum bandwidth, and backward compatibility with PCIe Gen3 gives you the versatility to bring fast storage to a variety of systems.
NVMe M.2 SSD Technical Specifications
SSD Unformatted Capacity – 4TB
SSD Smart Support – Yes
Weight – 0.066
SSD Interface – PCIe Gen 4.0 x4
SSD Max Sequential Read – CDM Up to 7,100MB/s
SSD Max Sequential Write – CDM Up to 6,800MB/s
Max Random Write – QD32 IOMeter Up to 1.2M IOPS
Max Random Read – QD32 IOMeter Up to 1M IOPS
Form Factor – M.2 2280
Dimensions – 80mm x 23mm x 19mm
Application – Consumer Client
Warranty – 5 Year
NAND Technology – 3D TLC NAND
Voltage – 3.3V, +/- 5%
Endurance – 3000TBW
TBW – 3000
MTBF – 1,600,000 Hours
DEVSLP – PS4: <3mW
Encryption – AES 256-bit Encryption
Storage Temperature -40°C to +85°C
SSD Operating Temperature – 0°C to +70°C
SSD Shock – 1500 G
Storage Humidity – 93% RH (40° C)
Operating Humidity – 90% RH (40° C)
Vibration – 20Hz~80Hz/1.52mm, 80Hz~2000Hz/20G