As expected, the GeForce RTX 3090 of NVIDIA is currently the fastest gaming graphics card on the market. The well-known overclocker Vince Lucido has reached a new benchmark in Port Royal with its EVGA GeForce RTX 3090 K|NGP|N.
We've already seen the GeForce RTX 3090 benchmark results, which show that there is no point in most users overpaying more than double for a 10% gain. With the RTX 3090 starting to appear on the market, the folks at EVGA have decided to test the limits of the most powerful GeForce Ampere on the market, scoring impressive figures in 3DMark's Port Royale benchmark.
With the help of some liquid nitrogen, Lucido pushed the GPU clock rate up to an impressive 2,580MHz, a truly exceptional result. Starting with the GDDR6X memory, it has been increased from 19.5 Gbps to those that work as standard on the card to 21.5 Gbps, so its bandwidth has gone from 936 GB/s to 1032 GB/s. This allowed Lucido to break the world record in Port Royale with a score of 16,673 points, as evidenced by the image posted below.
But the biggest jump has been in terms of clock speed, reaching 2.58 GHz as a maximum speed. It should be noted that the speed in the accelerated mode of the RTX 3090 that NVIDIA gives in the technical specifications is 1,700 MHz, which translates into a considerable jump compared to the standard model of the RTX 3090.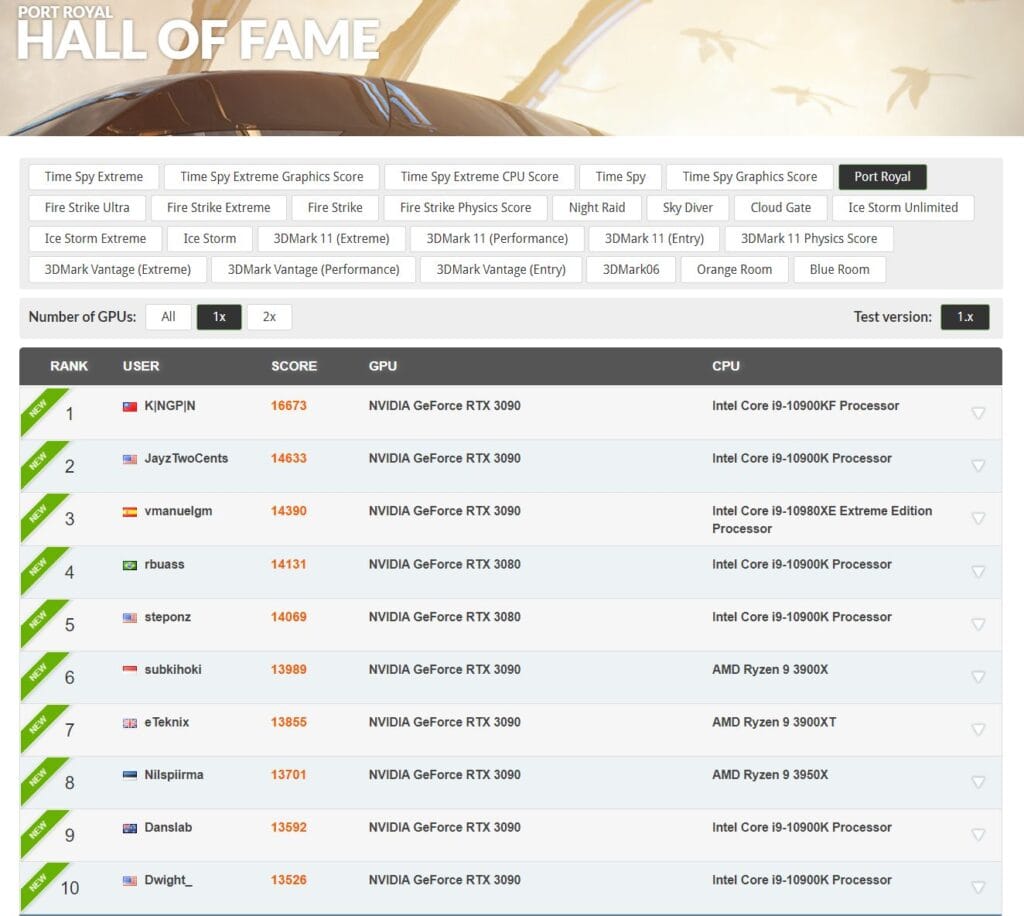 The other changes that the folks at EVGA have made to achieve this impressive result are the specs of the rest of the equipment to which they have connected their accelerated graphics card.
They have used an Intel Core i9-10900KF running at a clock speed of 5.2 GHz and DDR4 memory running at 2300 MHz speed, all connected to a motherboard of Z490 DARK KINGPIN of their own brand.
There is no doubt that the RTX 3090 is the replacement of the RTX 2080 Ti on the market as the top-of-the-range graphics card of the generation (leaving aside and with the permission of the Titan RTX), which also broke clock speed records by using liquid nitrogen overclocking tests.