According to a leak, the first NVIDIA GeForce RTX 3090 benchmarks have appeared online. According to the results obtained by the RTX 3090, it seems to be 20% faster than RTX 3080 and 50% faster than RTX 2080 Ti.
NVIDIA GeForce RTX 3090 Benchmarks Leaked, 50% Faster Than RTX 2080 Ti
Nothing better than starting the day with the leak of the first benchmarks of the Nvidia GeForce RTX 3090, a graphics card that has been tested by the benchmarking software 3DMark Time Spy and Time Spy Extreme. In both cases, the video card was tested at a 2K/1440p resolution reaching a score of 20,387 and 10,328 points respectively.
This implies, that in these benchmarks, the GeForce RTX 3090 is 19% and 20% faster than the GeForce RTX 3080; A difference that becomes much more noticeable if we compare it with the top-of-the-range GPU of the previous generation, the Nvidia GeForce RTX 2080 Ti, being able to see how we gain a 42%/58% performance in these benchmarks.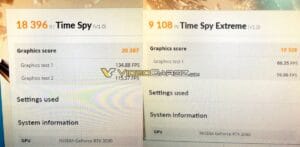 If we go to Geekbench, in the CUDA benchmark, the GeForce RTX 3090 achieves a score of 249,153 points, which translates to being 15.7% faster than the GeForce RTX 3080 (215,361 points).
On the other hand, it has also been possible to see an overclocked Gigabyte GeForce RTX 3090 Gaming OC @2145 MHz (vs 1700 MHz of reference), and for this its power consumption was significantly modified from 390 to 550W, achieving a performance of 11308 points in the 3DMark Time Spy Extreme (+10% compared to reference frequencies), while in the Time Spy it reached 21,484 points (+5.4% ). Regarding memory, it receives a small overclock to reach a bandwidth of 1008.4 GB/s.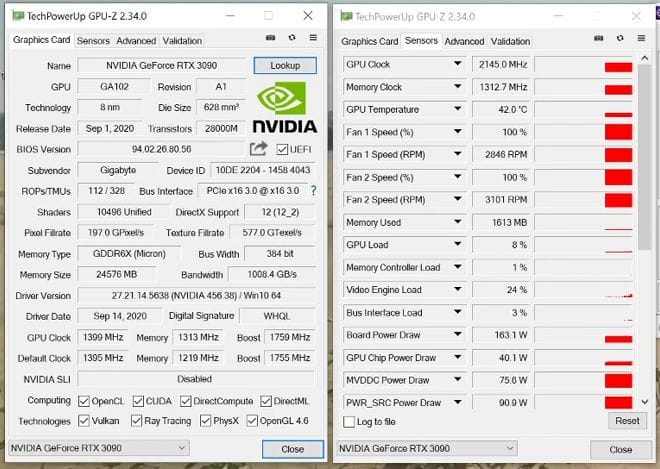 Of course, this overclock is useless, because with the fans at 100%, and the GPU in idle, with an 8% load, it is already 42ºC. So we think it is about very limited overclocking for 24/7 like the GeForce RTX 3080.