A few hours after the launch of the AMD Radeon RX 6800, the first real image of the Gigabyte AORUS RTX 3080 Ti gets leaked on the internet, the new flagship NVIDIA model based on Ampere GPU that should be at the top of the graphics card market, waiting obviously to check out the infamous Radeon RX 6900 XT arriving on December 8th.
We've talked several times about the GeForce RTX 3080 Ti and the possible specs, essentially an RTX 3090 with 20GB of GDDR6X VRAM and presumably clock rates that should be slightly more boosted than the GeForce RTX 3080 that was launched in September.
As you can see in the first image of the Gigabyte AORUS RTX 3080 Ti Extreme, the GPU boasts a custom variant with a triple fan heatsink and a series of optimizations for components, cooling system, and the tendency to overclock.
At the moment no technical data has been given, but from the image, it definitively seems confirmed that the amount of VRAM equal to 20GB GDDR6X which, unlike the GeForce RTX 3090, will use a 320-bit interface.
These are the new details at the moment, while as regards to its price and release date it is rumored that the Gigabyte AORUS RTX 3080 Ti graphics card will cost $999 (like Radeon RX 6900 XT) and that it will arrive in January 2021, therefore it will be in direct competition with the top of the AMD range.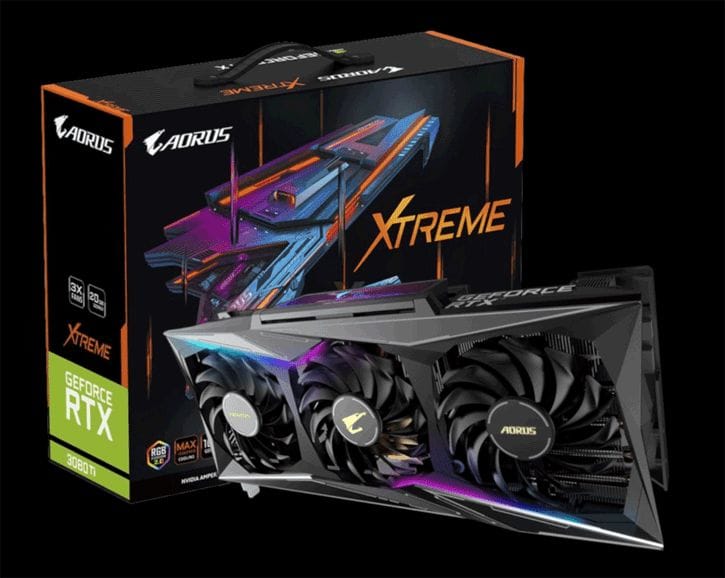 Here are the likely technical specifications of the GeForce RTX 3080 Ti:
NVIDIA Ampere GA102-250-KD-A1 GPU
Cuda Core: 10,496
RT Core: 82
20GB GDDR6X memory
320-bit memory interface
Memory Speed of ​​19 Gbps (or 19.5 Gbps)
TGP 320W
1 x 12pin PCIe power supply
NVLink Support: No
Price $999 (excluding tax)
Release Date January 2021