Instagram users have been requesting an in-app post scheduler to allow them to schedule their posts, stories and reals. Now, Instagram has officially announced that it has started rolling out the new content scheduling tools right in the Instagram app.
Instagram's in-app post scheduler lets users set times and days for their posts. It is a simple process, but it adds a level of convenience to the social media platform. The social media platform has found that certain times get the most engagement. That means that posting on certain days is particularly important. However, it is often difficult to post at these times, especially when traveling. By using this new feature, you can now schedule posts ahead of time and let them go live when the best time is.
The Instagram in-app post scheduler will let you schedule a Photo, Carousel, or Reel up to 75 days in advance. It is available in the Advanced settings under the 'Scheduled Content' section of the app.
How to Schedule a Post on Instagram App?
To schedule, a post on the Instagram app you can go to "Advanced Settings" while creating a new post or Reel.
Now, simply enable "Schedule this post" and select the time and date you want your content to go live.
After setting the date and time, they can go back to the post and hit Schedule.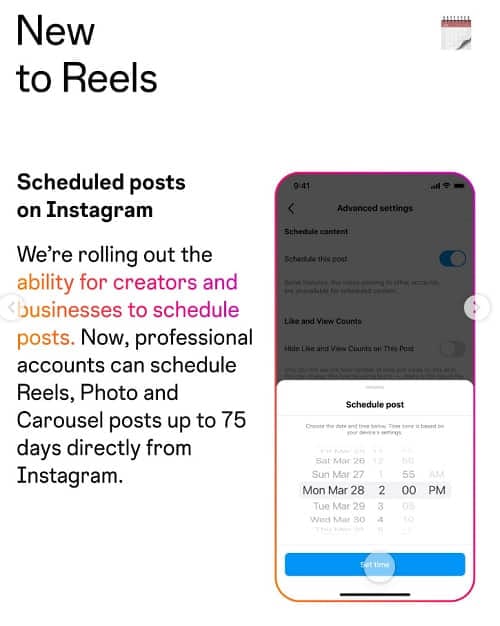 After scheduling your posts, you can view them in the future. If you are a business, you can use this feature to reschedule posts. This new post scheduler tool also lets you create posts in advance and tag products in Instagram Shop. In addition to that, you can also schedule Instagram Stories in advance. In addition to letting you schedule Instagram posts, this tool also allows you to edit your photos in the same dashboard, making it easier to create images and post them on your account.
Although Instagram hasn't mentioned the date of the launch, it is likely that the feature will be rolled out to everyone soon. In addition to in-app post-scheduling, the platform also launched new features for creators. These include achievements and the ability to create interactive reels. These new features will help Instagram users optimize their posts and maximize their performance.