Intel's Innovation event is still a few weeks away, and we expect Alder Lake CPUs to be announced then. The startling news is that shops have begun advertising new CPU series even before Intel has made an official announcement. The initial pricing leak came from the Netherlands, and now we have the first price leak from the United States, which may represent Intel's MSRP more accurately, but this has yet to be confirmed.
Some of the Alder Lake CPU specifications are inaccurate, such as the Intel Core i7-12700K, which is described as a 4-core/20-thread processor while it is actually a 12-core/20-thread processor. The information comes from Provantage (via @harukaze5719), which shows that certain Alder Lake chips are still available but are marked as "sold out."
If Intel launches Alder Lake at this price point, it may be a strong competitor to AMD's Zen 3 processors, such as the Ryzen 9 5950X. There's no denying that Team Red's 16-core/32-thread CPU is a beast, but it's currently priced at US$749 on Amazon, so a competitor in the form of the i9-12900K might appear quite appealing if it were priced around the US$600 level.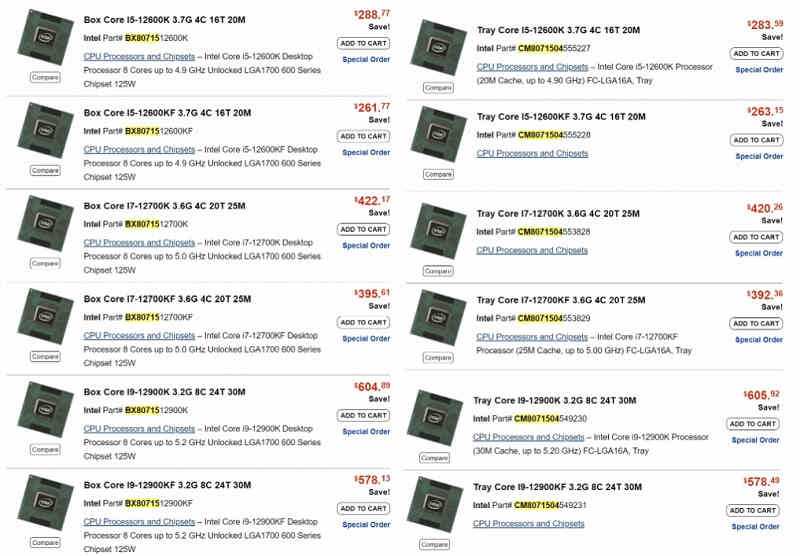 Numerous simulated benchmark leaks for the Intel 7-based processors ("Intel 7" is the new moniker for the Intel 10 nm Enhanced SuperFin technology) reveal that Alder Lake has a lot of potentials. Of course, AMD's Rembrandt Zen 3+ processors might eventually outperform Alder Lake in benchmarks, but for now, Intel has the upper hand.
When it comes to new Intel desktop processor releases and a prospective purchase, there are certain limitations to bear in mind. There will be a need for an LGA 1700 socket-compatible motherboard, as well as the additional cost of DDR5 RAM to consider. Costs like these, on the other hand, may drive Zen 3 part prices to drop slightly, which is always a positive thing for the consumer.