We had been hearing rumors for many months that the Intel DG1 would be Intel's first dedicated graphics for the gaming segment, and although at the time of reality it came as the Intel Iris Xe MAX, a dedicated GPU for laptops, finally an Intel Xe is coming to handheld desktops from a collaboration with Asus and Colorful, who designed their own PCB and cooling system to bring this GPU to life.
Manufactured in the same 10nm SuperFin process of the Tiger Lake family with low consumption Intel Xe LP architecture, the Intel DG1 is an entry-level graphics card with 80 EUs (Execution Units) and is very similar to the integrated GPU present in the Core i5 1135G7, being curiously less powerful than Iris Xe MAX, which has 96 EUs.
Other specifications include Adaptive Sync, HDR, support for AV1 codec, 4GB of VRAM LPDDR4X, consumption of 30W and clocks in the 1700MHz range, resulting in computational power of around 2.11 TFLOPs, more than the original PS4.
The GPU will be exclusive to computer manufacturers, and has already had two models announced, one from ASUS, which has passive cooling thanks to low consumption, and one from Colorful.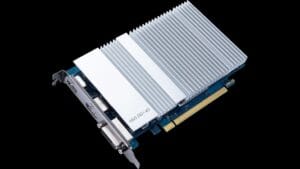 Below is the full press release that is given by Intel:
Intel codesigned and partnered with two ecosystem partners, including ASUS, to launch the Intel® Iris® Xe discrete desktop graphics cards (code-named "DG1") in systems targeted to mainstream users and small- and medium-size businesses. The cards are sold to system integrators who will offer Iris Xe discrete graphics as part of pre-built systems.
Following the launch of Intel Iris Xe MAX for notebooks, Intel's first Xe-based discrete graphics processing unit, Intel and its partners saw the opportunity to better serve the high-volume, value-desktop market with improved graphics, display, and media acceleration capabilities.
The new cards offer a compelling upgrade to existing options in the market segment. They feature three display outputs; hardware video decode and encode acceleration, including AV1 decode support; Adaptive Sync; Display HDR support, and artificial intelligence capabilities thanks to DP4a deep-learning inference acceleration. The Iris Xe discrete graphics cards come with 80 execution units and 4 gigabytes of video memory.