Intel, the industry giant in semiconductor technology, has unveiled its latest and greatest 14th Gen Core desktop processor family, code-named Raptor Lake-S Refresh. Headlining this powerful lineup is the Intel Core i9-14900K, which brings groundbreaking performance to the desktop computing landscape. This new range includes six unlocked desktop processors, boasting up to 24 cores, 32 threads, and impressive out-of-the-box clock speeds of up to 6GHz. The Intel Core i7-14700K also stands out, offering 20 cores and 28 threads, thanks to the addition of four efficiency cores in comparison to the previous generation.
One of the most notable features accompanying the release is Intel's Extreme Tuning Utility (XTU), now enhanced with the new AI Assist feature. This addition simplifies the overclocking process with one-click AI-guided overclocking for select unlocked Intel Core 14th Gen desktop processors.
Intel Core 14th Gen Desktop CPUs: A Quick Overview
Core i9-14900K: At the top of the stack, this CPU is designed for hardcore gamers and performance enthusiasts. With 25% more cores than the Core i7-14700K, it delivers exceptional performance. It offers 36MB of L3 cache, a max turbo frequency of up to 5.6GHz for P-cores and 4.4GHz for E-cores, and Intel UHD Graphics 770. There's also a Core i9-14900KF with the same specs but without integrated graphics.
Core i7 Models (i7-14700K and i7-14700KF): These models come equipped with a total of 20 CPU cores, 33MB of L3 cache, and similar turbo frequencies as the Core i9 series. Notably, the Core i7 models have a higher base frequency of 3.4GHz for P-cores and 2.5GHz for E-cores in comparison to the i9 models.
Core i5 Models (i5-14600K and i5-14600KF): These models feature 14 cores in total (6P+8E) and 24MB of L3 cache. They don't support Intel Thermal Velocity Boost Frequency or Intel Turbo Boost Max Technology 3.0, which are exclusive to the i9 and i7 models.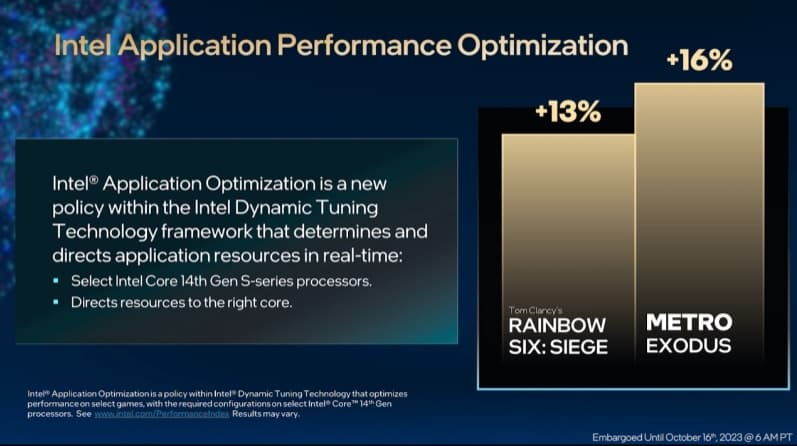 Cutting-Edge Features
Intel's 14th Gen desktop processor family comes with integrated support for Wi-Fi 6/6E and Bluetooth 5.3, while also offering discrete support for Wi-Fi 7 and Bluetooth 5.4 wireless technologies. Moreover, these processors support Thunderbolt 4 and the upcoming Thunderbolt 5 wired connectivity, promising impressive bi-directional bandwidth of up to 80Gbps.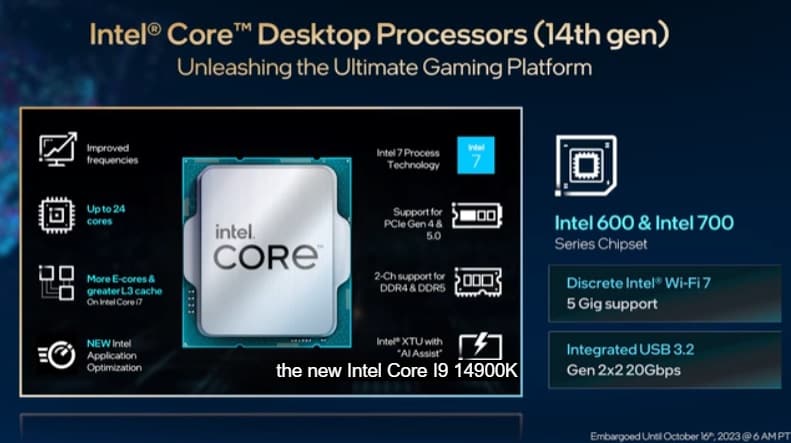 In response to this launch, Roger Chandler, Intel's VP and GM for Enthusiast PC and Workstation in the Client Computing Group, emphasized the company's commitment to delivering top-tier desktop performance. He stated, "Since the introduction of our performance hybrid architecture, Intel has consistently raised the bar for desktop performance. With our Intel Core 14th Generation processors, we're showing once again why enthusiasts turn to Intel for the best desktop experience available on the market today."
Intel's new 14th Gen Core desktop processors are expected to hit retail outlets and OEM partner systems on
October 17, 2023, offering a significant leap forward in desktop computing capabilities for power users and enthusiasts.