In a drastic turn of events, it was recently known that Nvidia has decided to relaunch two previous generation mid-range graphics cards, the GeForce RTX 2060 and its variant, the GeForce RTX 2060 SUPER.
The sources reveal that Nvidia has already distributed these GPUs among its partners, so in the coming weeks, it should increase the availability of these GeForce RTX 2060 & RTX 2060 SUPER graphics card models in store.
The reason for this move is quite simple, and it is that although they do not arrive to compete with the GeForce RTX 3060, which is notably more powerful, they arrive to occupy an "affordable price" space that is still impossible to see due to the absence of a GeForce RTX 3050,
It is also worth mentioning that in this case, they employ a 12nm manufacturing process by the hand from TSMC, which allows it to nurture the market by having access to a greater number of chips.
The Nvidia GeForce RTX 2060 would enter at a price of $299 USD while the GeForce RTX 2060 SUPER would do it for $400 USD. Although the GeForce RTX 3060 was officially announced for 339 EUR, at the moment the cheapest model is around 390 EUR, but of course, there is no stock nor is it expected to arrive soon.
The RTX 3060 would land in late February, but we could see a new launch delay or very limited stock at departure. So, NVIDIA's strategy is to re-introduce older models to meet the demand of people who simply need a graphics card with some power.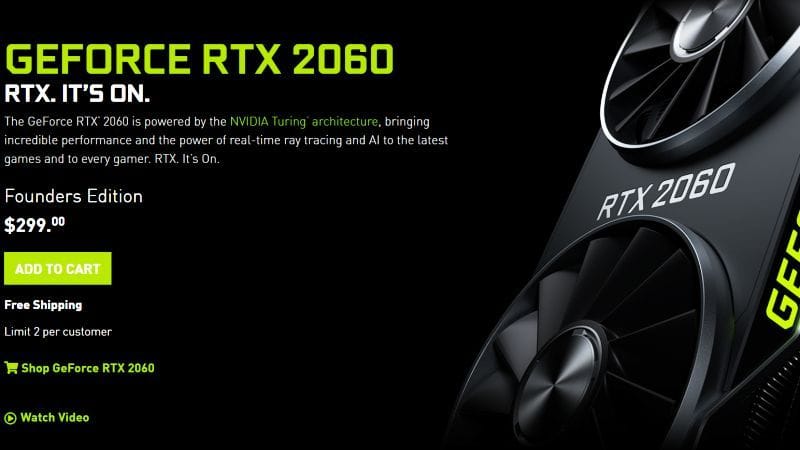 Although the news about the manufacture and stock of the RTX 2060 and 2060 SUPER were true, it is not known if this is a move for the OEM or consumer market. Following the production stoppage of the Turing range, certain manufacturers would have quickly run out of stock and would not have a replacement GPU, as there is no stock of Ampere either.
| | | | |
| --- | --- | --- | --- |
| Model | GeForce RTX 3060 | GeForce RTX 2060 SUPER | GeForce RTX 2060 |
| Architecture | Ampere (8nm Samsung) | Turing (12nm TSMC) | Turing (12nm TSMC) |
| Base Freq |  1320 MHz |  1470 MHz |  1365 MHz |
| Turbo Freq |  1777 MHz |  1650 MHz |  1680 MHz |
| CUDA: RT: Tensor |  3584: 28: 112 |  2176: 64: 136 |  1920: 48: 120 |
| Memory |  12GB GDDR6 |  8GB GDDR6 |  6GB GDDR6 |
| Memory Freq. |  15 Gbps |  14 Gbps |  14 Gbps |
| Memory Interface |  192 bits |  256 bits |  192 bits |
| Bandwidth |  360 GB / s |  448 GB / s |  336 GB / s |
| TGP |  170W |  175W |  160W |