A British online shop has published the first prices for the Nvidia GeForce RTX 3060, which indicates that Nvidia's recommended retail price will be exceeded by far. Accordingly, the RTX 3060 is said to be partly more expensive than its big brother in the form of the RTX 3060 Ti.
Just a few weeks ago, hardware manufacturer Nvidia announced that there would be another model in its own ampere portfolio. Specifically, it is none other than the Nvidia GeForce RTX 3060 graphics card, the previous entry-level model that is to be equipped with 12GB of video memory.
Nvidia has stated that the graphics card should be in stores at the end of February, although this will probably be rather difficult due to the ongoing delivery problems.
Nvidia GeForce RTX 3060: First prices almost £500 and above
Nevertheless, the first custom models of the RTX 3060 are already showing up in various online shops. The only thing missing is the price. However, it seems that the first prices could now be called up in the British online shop CCL Computers.
However, the RTX 3060 cannot be called up in the normal way on the website. Rather, the graphics card must appear in the "Similar products" or "Recently viewed" area. The cheapest variant that can be seen there is the Asus RTX 3060 TUF non-OC, where the price is 469.96 GBP, which would be around 530 EUR.
In general, it seems as if the RTX 3060 models in the British shop are all more expensive than the same custom designs of the bigger brother RTX 3060 Ti. Of course, these can only be placeholder prices, but the information is always strange.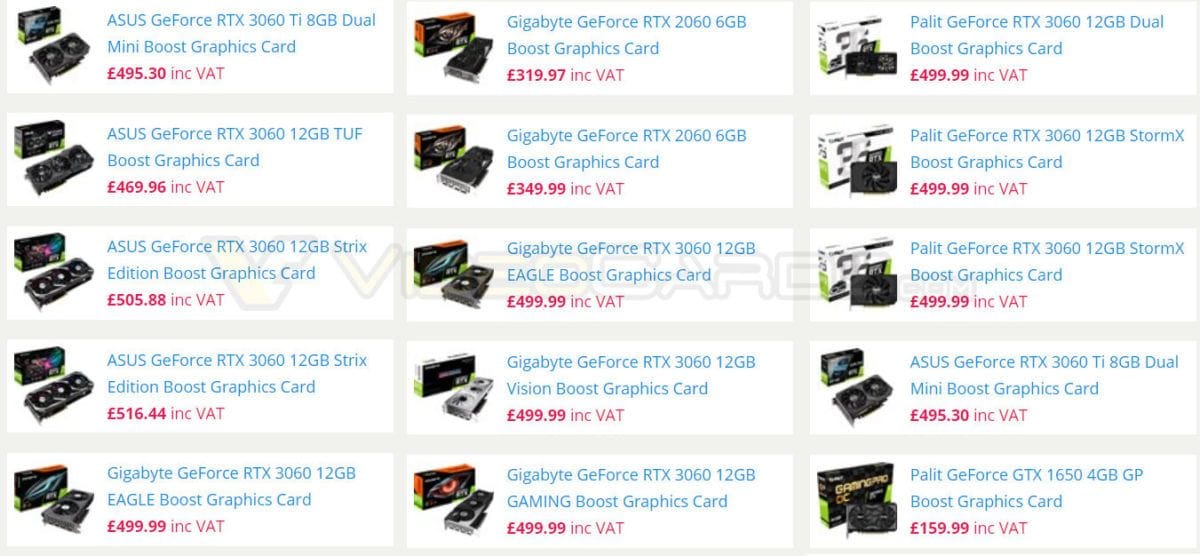 The special thing about the GeForce RTX 3060 Non-Ti version is that Nvidia does not offer an FE version of the RTX 3060, which you could previously always order at the recommended retail price for the other models.