The first tests of the NVIDIA GeForce RTX 3060 Ti video card compared with the RTX 2080 Super, intended for the press, started appearing beforehand. The graphics cards were tested at 2K resolution with an Intel Core i9-10900K processor. In addition, the images of boxes of the GeForce RTX 3060 Ti have also been leaked.
We have one of the first benchmarks of the NVIDIA GeForce RTX 3060 Ti, coming straight from the green team. This would be a leak of the tests done by the green team, which shows the superiority of the RTX 3060 Ti over the RTX 2080 Super.
Nvidia GeForce RTX 3060 Ti outperforms RTX 2080 Super GPU
Improvements to the Ampere architecture make it possible for a mid-range graphics card, such as the RTX 3060 Ti, to achieve similar or better performance than a high-end RTX 2080 Super from Turing.
The tests were carried out using an Intel Core i9-10900K processor and in 1440p resolution, revealing the performance of the RTX 3060 Ti, RTX 2080 Super, and RTX 2060 Super graphics cards in different games, including some with Ray Tracing enabled and also in applications rendering.
In all tests, Nvidia's unreleased GeForce RTX 3060 Ti graphics card manages to outperform the RTX 2080 Super with only one draw in Watch Dogs Legion. In the other games, there is an advantage for the Ampere graphics card. In rendering tools, the advantage seems much broader.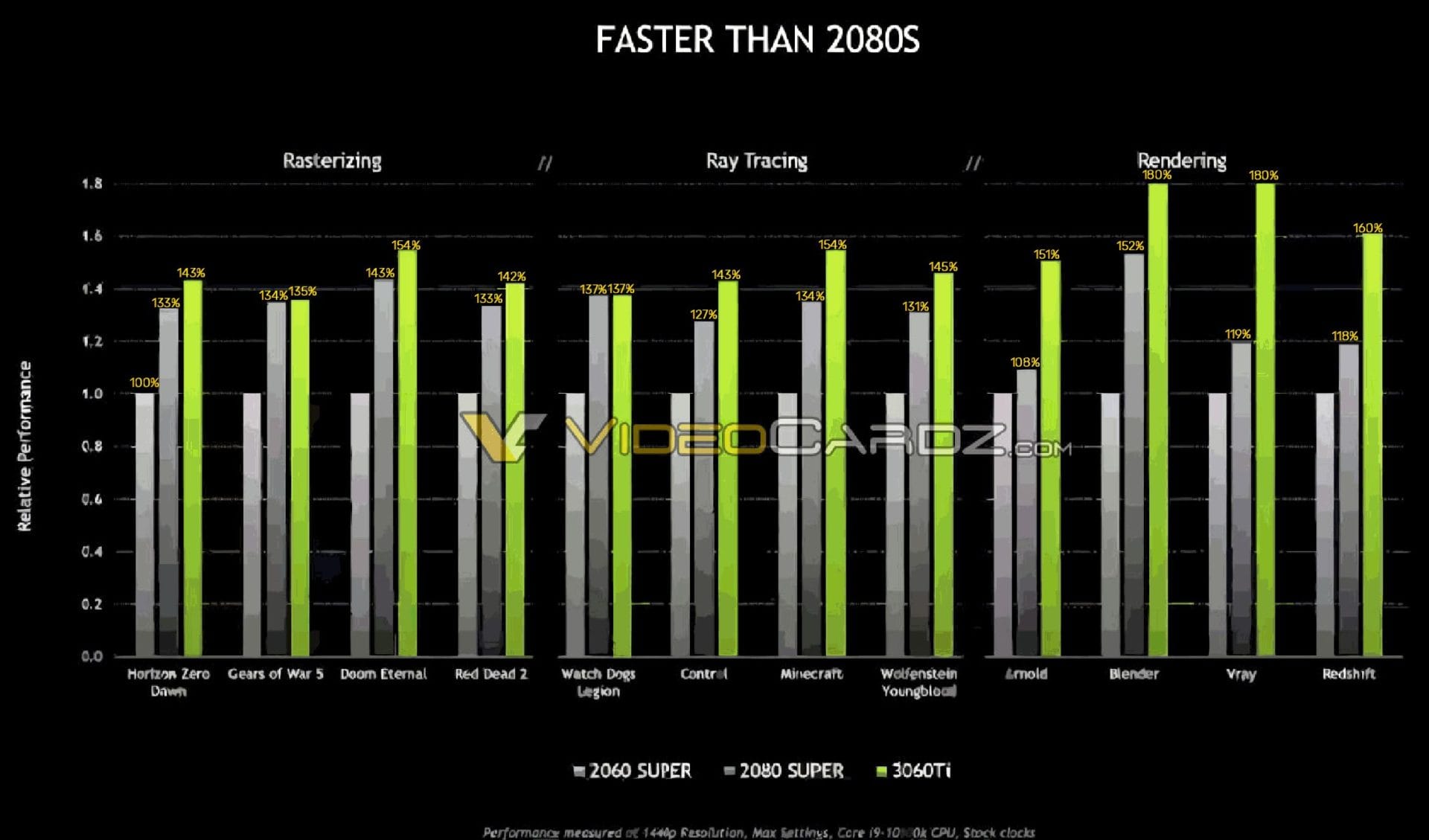 So judging by the first tests, the 3060 Ti will be faster than last year's RTX 2080 Super graphics card. The RTX 3060 Ti is rumored to be priced at less than $400, while the RTX 2080 Super was sold at launch for $699.
In addition, you can check the first images of the box of RTX 3060 Ti which is arriving at stores. In the pics below, you can see the ASUS GeForce RTX 3060 Ti TUF which is confirmed to be a triple-fan design.