Finally, after so many rumors, the technical specifications of Nvidia GeForce RTX 3060 Ti has now been confirmed, thanks to the manufacturer Manli.
The manufacturer Manli ended up confirming the specifications of the Nvidia GeForce RTX 3060 Ti, a GPU that has a GA104-200 chip made up of 4864 CUDA Cores Ampere (vs 3027 CUDA Cores Turing in the GeForce RTX 2080 SUPER) that would provide a performance of 16.2 TFLOPs with a Base/Boost frequency of 1410/1665 MHz (vs 11.15 TFLOPs) together with 8 GB of GDDR6 memory @14 GHz which, together with a 256-bit memory interface gives us a bandwidth of 448 GB/s ( vs 497 GB/s) with a power consumption that will finally be 200W (vs 250W).
With regard to the Manli GeForce RTX 3060 Ti, it arrives with the factory frequencies, a double fan configuration, where the backplate is semi-open, which allows all the air that moves the second fan to pass through the radiator and exits the GPU through the rear, causing heat to be expelled to the outside of the chassis via the CPU cooler over the air or via the upper fans.
The GPU occupies 2 PCI slots, is powered by 2 x 8+8-pin PCI-Express connectors, and provides four video outputs in the form of 3x DisplayPort + 1x HDMI.
The GeForce RTX 3060 Ti graphics card will be based on the GA104-200 chip, which is dedicated to mid-priced graphics cards. The retail price is expected to be $399. According to Manli, the new RTX 3060 Ti video card will be offered by Nvidia at an extremely affordable price. Check the leaked image of the card's specs below.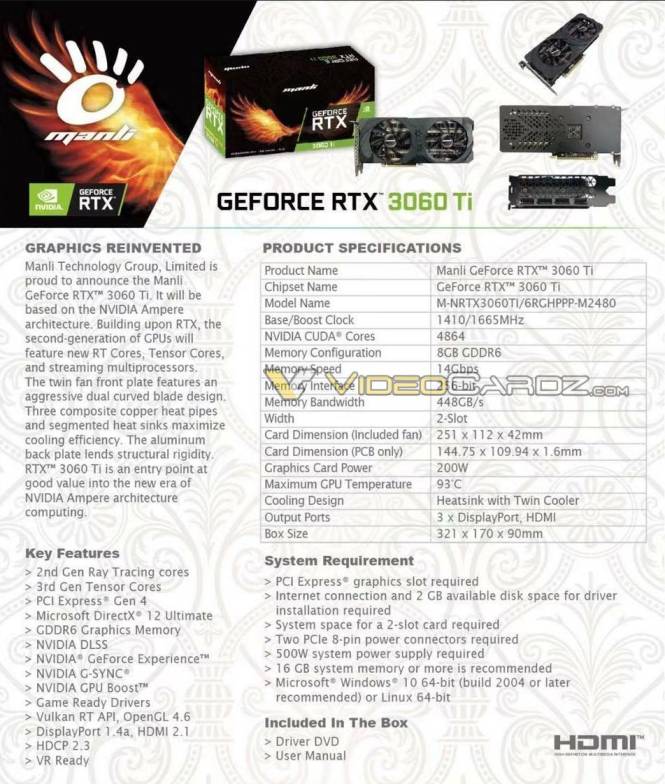 Nvidia will officially present the RTX 3060 Ti on December 2, 2020. The graphics card will go on sale before Christmas.