It's time to get ready for the next Pokemon game – it's time to start pre-ordering Pokemon Scarlet and Violet! Yes, Pokemon Scarlet and Pokemon Violet are now available for preorder from major online retailers. You can preorder any of the games alone for $59.99 or you can buy the Pokémon Scarlet & Pokémon Violet Double Pack which is available at $119.99. As a preorder bonus, people can get a special Pikachu that will be available to claim until February 2023 with the Mystery Gift feature.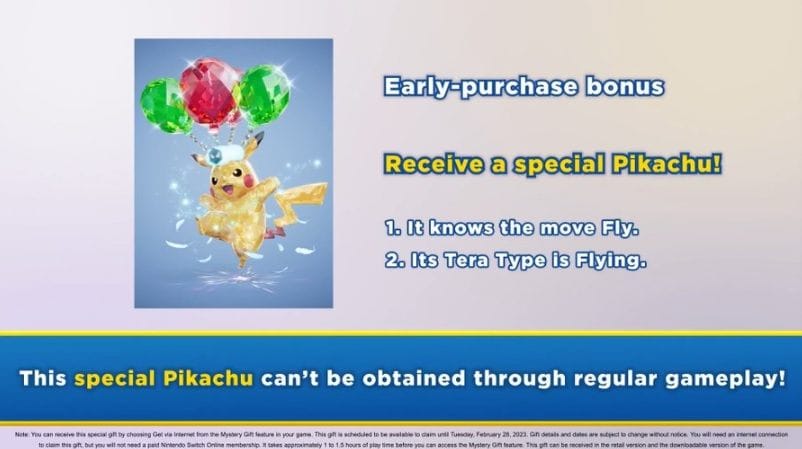 How Claim This Early Purchase Special Pichaku?
Here is how you can claim this special Pichaku as an early bonus for purchasing Pokémon Scarlet or Pokémon Violet.
You will need to connect your Nintendo Switch system to the internet to claim this early-purchase bonus.
The user profile on your system will need to be linked to a Nintendo Account in order to connect to the internet. (This does not require a paid Nintendo Switch Online membership.)
It takes approximately 1 to 1.5 hours of playtime before you can access the Mystery Gift feature to input the serial code.
This special Pikachu can be received in either the retail version or the downloadable version.
Pokemon Scarlet and Violet will feature three new starters, a grass-type kitten named Sprigatito, a fire-type Pokémon called Fuecoco, and a water-duck named Quaxly. Legendary Pokemon, meanwhile, has been confirmed as Koraidon and Miradon. These three new starters are sure to make the game a hit!
Pokemon Scarlet/Violet available for preorder (Out Nov 18th):

Amazon https://t.co/RQSHmtnLHi
Best Buy https://t.co/endSCik700
GameStop https://t.co/nfx4AiinTm
Target https://t.co/VG5mjr2Q79
Walmart https://t.co/ig5b72Bv5O #ad pic.twitter.com/NlKa2mThxi

— Wario64 (@Wario64) August 3, 2022
The first generation-nine Pokemon games are slated to release on Nintendo Switch on November 18. To get an early peek at the games, you can pre-order them now at most major retailers. You can also pre-order them from the Nintendo Switch eShop. This new game will introduce a whole new region and a new set of Pokemon. As always, you can save even more money by pre-ordering the game early!
You can watch the Pokemon Scarlet and Pokemon Violet trailer here.