One of the great shortcomings of the new generation electronic devices is that they do not have sufficient autonomy because they have a lot of power and the batteries are limited in capacity. If we go on a trip with the Nintendo Switch, for example, we may not have autonomy for a full day. However, with so many portable chargers in the market, we have a solution for this problem.
The different Nintendo Switch models have a battery of around 4,000 mAh. It is a sufficient capacity if we are going to play some games after one day, but if we go on trips and we are going to play a lot of games then we could run out of battery.
For this, an external power charger is a great solution. With almost any portable chargers on the market, we can now double the autonomy of the Nintendo Switch, but if we buy a battery with more capacity we can even get much more autonomy, even being able to charge the battery of the game console with fast charging technology.
There are many portable chargers in the market that we can acquire to expand the energy capacity of our Nintendo Switch when we travel. Here are some cheap portable chargers that you can buy for your Nintendo Switch.
PowerAdd Pilot X7
The PowerAdd Pilot X7 battery is one of the most sold on Amazon as a power bank for charging smartphones and portable game consoles. With more than 4,000 opinions it is a completely safe and guaranteed purchase. The battery has even been improved with new versions of it that have had small design improvements.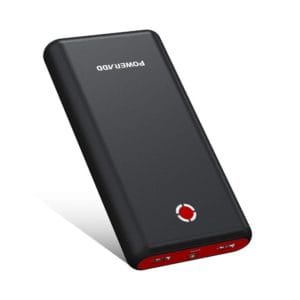 With 20,000 mAh capacity, we have the possibility to charge the battery of a Nintendo Switch between four and five times. In addition, it is compatible with fast charging, so we can charge the battery of Nintendo Switch at high speed in exchange for losing some capacity in the battery.
The price of this portable charger is about 21 euros, so it is really a cheap external battery, which has all the features we can expect in an external battery of this type.
Aukey Powerbank 20,000 mAh
Another of the great options of a reference brand is this Aukey power bank with a capacity of 20,000 mAh. In essence, it is very similar to Poweradd's, but it is somewhat more expensive, and we can consider it to be of a somewhat higher quality.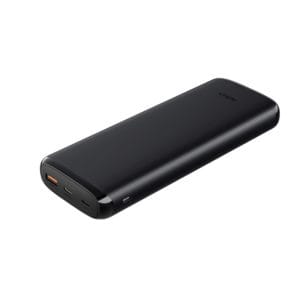 With 20,000 mAh, we also have the possibility of charging the Nintendo Switch between 4 and 5 times, having autonomy for a very long trip, and even for several days depending on how much we play. We could highlight from this power charger the fact that it has the possibility of charging two devices simultaneously, such as our mobile and the Nintendo Switch, or two Nintendo Switch, as well as Bluetooth headphones.
But it also has two inputs to charge the battery itself. If we are not going to have access to a power grid for a long time, being able to charge the battery with two chargers simultaneously is very useful, since we have to take into account that with a capacity of 20,000 mAh, we will need a few hours to charge the battery 100%.
Baseus 30,000 mAh external battery
If the trip is going to be really long, and you need a battery to charge your Nintendo Switch but also your smartphone, tablet or headphones, then a great option is this Baseus 30,000 mAh.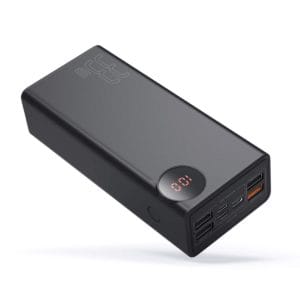 With a capacity of 30,000 mAh it is also a great option if there are several of your friends who have a Nintendo Switch, and you are all traveling. It is ideal to have up to three USB sockets so we can charge three Nintendo Switch at the same time. And again, it has several input jacks, up to three, so we can charge the battery with three chargers simultaneously to accelerate the power recharge.
The Baseus portable charger is priced at about 40 euros. It might not be cheap compared to the cheapest ones. However, it is cheap if we take into account all its capacity, and that we only need to carry a battery for everyone throughout the trip.
USAMS mini battery
And if you want something even smaller, a good option could be the USAMS mini battery. It is not so fine, but it is more compact. In fact, in volume it looks a lot like the box of the Apple AirPods, being perhaps a little bigger.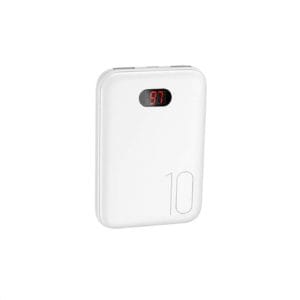 Even so, it has a battery of about 10,000 mAh, so we can charge the Nintendo Switch twice, or once if we use the fast charge. Being so small, we can carry it in the pocket of any backpack very easily, or even in the case of the Nintendo Switch if we have one to carry it.
Its price is only about 12 euros, so it is also a good option if we want an economical and compact power charger.