On Friday, AMD  announced its two new powerful graphics cards, the Radeon RX 7900 XTX and 7900 XT. The new RX 7900 XTX and 7900 XT GPU GPUs are a new generation of graphics cards. These new cards feature a chiplet design and RDNA 3 architecture, which helps improve performance and efficiency. The new graphics cards also include a new cooling system featuring three fans.
The new graphics cards support DisplayPort 2.1, a standard aimed at delivering higher resolutions for video games. This means the RX 7900 series will be able to support 8K and 4K games, and play them with great frame rates.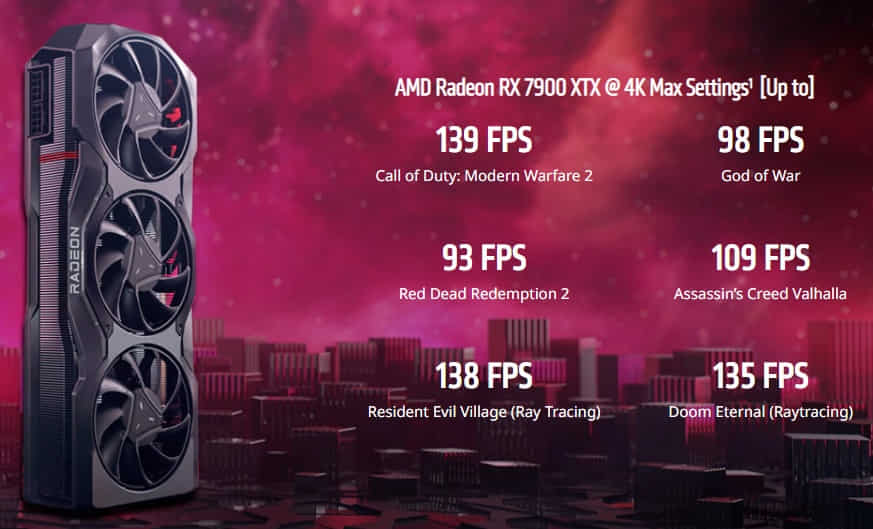 The 7900 XTX boasts a full 24-GB of memory while the 7900 XT comes with 20 GB. AMD also teased an 8K monitor called the Samsung Odyssey Neo G9 at CES. The 7900 XTX has a 2GHz clock and a 320-bit memory bus. It supports DisplayPort 2.1, UHBR 13.5 bandwidth, and simultaneous encoding/decoding for AVC/HEVC and 8K60 AV1. AMD claims that the 7900 XTX is 1.6x faster in pure rasterization and 1.7x faster in ray tracing at 4K.
The RX 7900 XTX and RX 7900 XT GPUs are expected to rival the NVIDIA GeForce RTX 4080 in price. They feature AMD's RDNA 3 architecture, which aims to further the company's leadership in performance per watt. The RX 7900 XTX is capable of handling a higher resolution at the same time as NVIDIA's GeForce RTX 4080.
RX 7900 XTS and 7900 XT Price and Availability
The AMD Radeon RX 7900 XT will be available priced at $899. Prices will vary for partner cards. On the other hand, the RX 7900 XTX is priced at $999 which is $300 cheaper than the RTX 4080. Both GPUs will be available for sale starting December 13, 2022. AMD will offer these cards at the same time as their Add-In-Board partners.