There have already been several unofficial references to a variant of the GeForce RTX 3080 with 20 GB instead of 10 GB of memory. In the recently published roadmaps on the architecture of the GA102 GPU, Nvidia itself now provides an indirect indication.
The document contains a table in which the specifications of the GeForce RTX 3080 are compared with those of the predecessor GeForce RTX 2080 and RTX 2080 Super.
But only with the RTX 3080 does Nvidia explicitly write the additional memory amount of 10 GB in the header, as if this information were essential, while the RTX 3080 is only available with 10 GB – at least so far.
Various sources had pointed out a variant of the RTX 3080, the reference board of which bears the identification PG132 SKU 20, while the published version is identified as PG132 SKU 10. AMD will unveil the new generation of Radeon RX 6000 with RDNA 2 architecture on October 28th.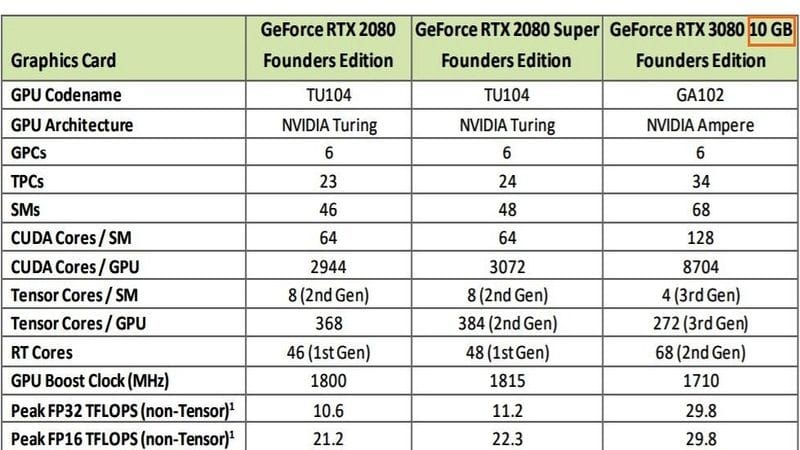 The GeForce RTX 3080 with 10 GB will officially go on sale today itself. Whether it is worth waiting for the GeForce RTX 3080 with 20 GB is difficult to predict and also depends on the premium price that Nvidia will charge for the doubled memory. In the test of the GeForce RTX 3080 FE, the 10 GB memory at least didn't prove to be a limiting factor. This can change for future games with even more memory requirements.
The document also compares the specifications of the GeForce RTX 3070, coming in October, with its predecessor in a table. The 8 GB memory of the RTX 3070 is not in the header. Lenovo had previously (probably accidentally) pointed out an RTX 3070 Ti with 16 GB memory.