The new Ampere line of Nvidia graphics cards will be replenished with the Nvidia RTX 3060 Ti model, made on a stripped-down GA104-200 chip. AIB partners of the "green" chipmaker have already started working on their own modifications of the novelty. In particular, Gigabyte Technology is preparing to release the GeForce RTX 3060 Ti Eagle OC model, images of which you can check at the top and bottom of this news.
In any case, the specs of GeForce RTX 3060 Ti include 4864 CUDA cores, 152 tensor cores, 38 RT cores and 8 GB of GDDR6 memory with a 256-bit interface and a bandwidth of 448 GB/s.
The power consumption of the video card in standard mode is about 180 watts. The recommended price of this Gigabyte RTX 3060 Ti graphics card is still unknown, however, according to preliminary data, it could be between $349 for the reference model and $399 for the custom models. In terms of performance, it would compete with the Nvidia GeForce RTX 2080 SUPER.
As for the Gigabyte GeForce RTX 3060 Ti Eagle OC model, it looks to be built on the older solutions of the GPU lineups. The main difference lies in the use of a cooler with two fans instead of three and, as a result, we can notice the smaller dimensions in the leaked image shown below.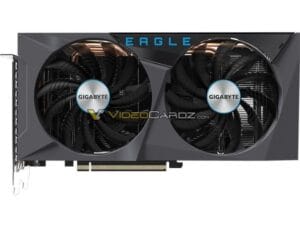 The model name indicates that this version of the Gigabyte RTX 3060 Ti has a factory overclocked GPU, but unfortunately, the information on the frequency of its operation remains unknown. At the end of the video card, there is an 8-pin auxiliary power connector, and the OC mark indicates the presence of a factory-overclocked GPU.
The official presentation of the GeForce RTX 3060 Ti video card was supposed to take place on November 17, but instead, it will now take place on December 2.