The Assassin's Creed series is making a return with the upcoming Assassin's Creed Mirage game. Just a day earlier we reported about the Assassin's Creed Mirage first image that was leaked a by a twitter tipster. Now, Ubisoft has officially announced Assassin's Creed Mirage by making the announcement on its Twitter account. The game is being developed by Ubisoft and will feature stealth, action and parkour gameplay. It is slated for a spring 2023 release date. Ubisoft is planning to announce the game's release date and more details at their upcoming Forward event.
During the Ubisoft Forward event on September 10th at 3pm Eastern, 9am PT, U.S., the developer will reveal more details about Assassin's Creed Mirage and other games in the series. The presentation will be broadcast live on YouTube, Twitch and the company's website.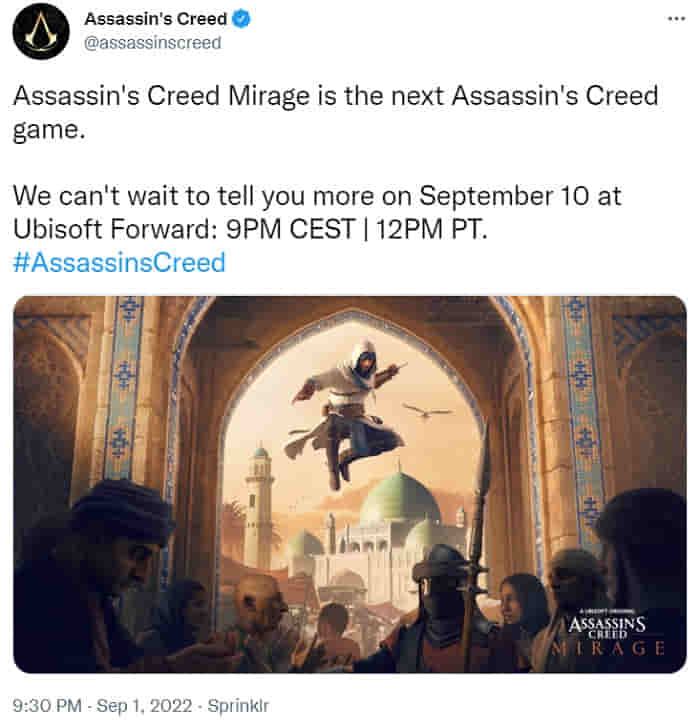 The game was previously known as Rift and was originally meant to be a sequel to Assassin's Creed Valhalla. However, Ubisoft reworked it to make it a standalone title. Players will play as the young Basim Ibn Ishaq from the Valhalla game and explore the world in his own way. The Mirage game is set in Baghdad during the 9th century and will feature the same characters from the Valhalla series.
After a long wait, Ubisoft finally revealed that Assassin's Creed Mirage would be their next mainline title. The game will be set in Baghdad, Iraq, and is reportedly more similar to the first few Assassin's Creed games than to the later games.