The Assassin's Creed series is a popular franchise among fans of the genre. While the series has grown and expanded to include a variety of genres, it has never strayed too far from its roots. The next game in the series, Assassin's Creed Mirage, is rumored to be a return to the series' roots, with a focus on its core mechanics.
Mirage will be set in the era of the Anarchy at Samarra, a time period marked by internal instability within the Abbasid Caliphate. This period witnessed the violent succession of four caliphs and the emergence of puppet caliphs that served as puppets for opposing military factions. The game's narrative revolves around the character of Basim, whom the player first met in Assassin's Creed Valhalla. Although Mirage is a remake of the first Assassin's Creed, the game lacks the RPG elements that made the first Assassin's Creed such a fun experience.
Assassin's Creed Mirage is a game that many fans of the franchise have been waiting for. While this is a big leap from the first game, the recent image surfaced reveals more details about the game. The the image was shared by the Twitter user @SynthPotato which shows a cover art of the Assassin's Creed Mirage game highlighting some details about the upcoming game.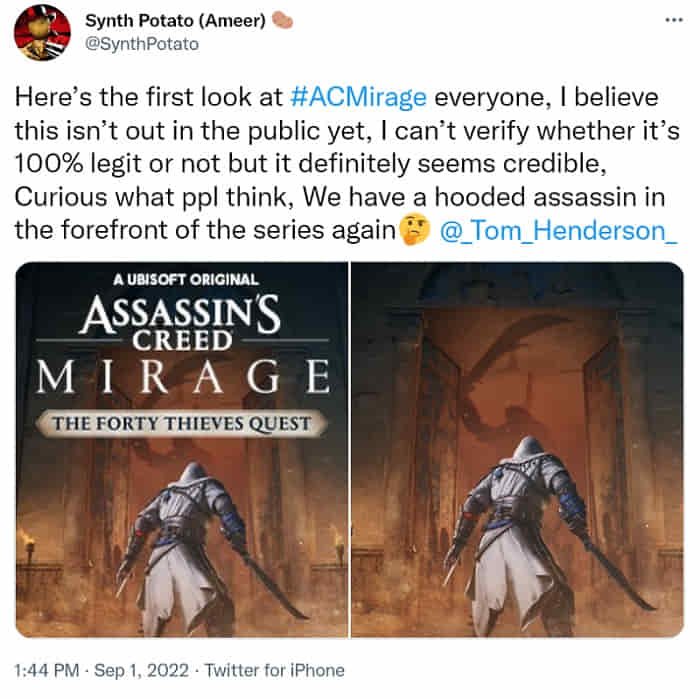 This may mean that this third installment of the franchise will be more open-world, and less focus on stealth and parkour. With that said, Mirage will provide Ubisoft with an opportunity to prove that it learned from the mistakes and will return to its roots.
This Assassin's Creed game will be smaller in scale, and will likely focus more on stealth. The game's first Image Surfaces in a video, and it makes claims about the storyline and characters. It will also feature Layla, who will be the protagonist, and her brother, Desmond. The two will eventually reunite, and Basim will return to life after the latter.